Exploring New Cookbooks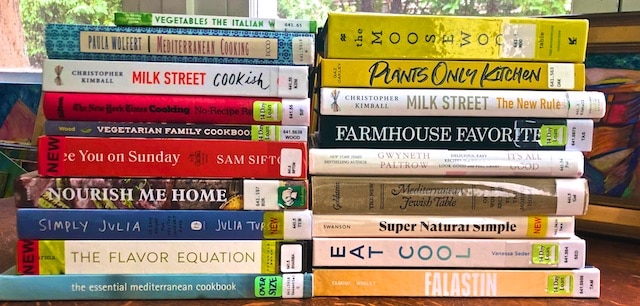 One of the things I missed during the pandemic was browsing in libraries. I especially frequent the new books sections and check out the cookbooks. Recently, I've visited a few local libraries to see what I've missed, and it turns out, it was quite a lot! Some of these books are brand new, and others are just new to me.
I gravitate to cookbooks that have pictures, and are vegetarian, vegan, Mediterranean, whole food, or foodie. All these books now have tabs in them of things I'd like to try, although I rarely follow a recipe straightforwardly. It is more that I look for good ideas as a jumping off point.
I read these pretty much cover to cover, skipping any meat or cocktail sections. I learn general principles this way, and collect a lot of tips. I'll use these books directly to cook from, or if there are only a few things I want to make, I'll copy off the few recipes of interest, and return it, saving myself the price of the book, but still gleaning the good of it. When I've used the idea from the copy, I recycle the paper, and move on. If we love what came out of it, I blog it as my record to return to. Every once in a while, I like a book so much I buy it for myself. Several of these too, will make it onto my wish list for Christmas present ideas for others to give me.
I'm home again now, working, until going back to Maine in August, so these cooking adventures will spice things up during this period. I usually try new recipes at lunch time Monday through Friday, when I have more time, and fill in the rest of our meals with tried-and-true favorites, or leftovers. It will be interesting to see what we like! Already I'm looking forward to some new, healthy variety in our rotation.
Also, I'm thrilled that the boon of the farmer's market is back in season, and that James already has lettuces, sugar snap peas, and garlic scapes ready in the garden. Summer is such a fabulous time for food!