Recipe: Chickpea Croquettes with Tjatjiki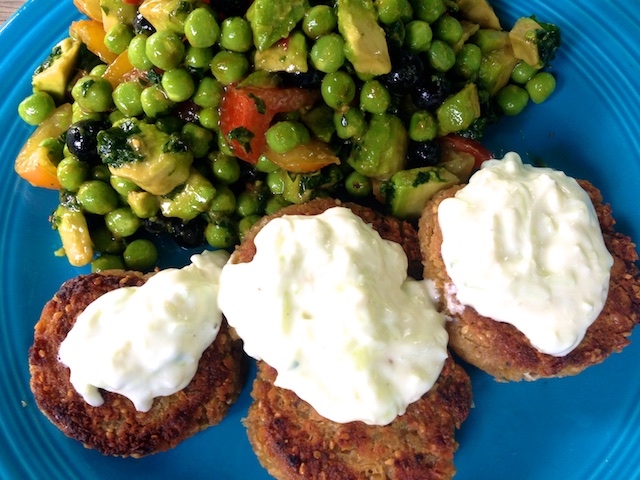 I would call these croquettes falafel, but the ingredients are different, even though the essence is the same. They are not very hard to make because a food processor is used to pull them together quickly, but I do use homemade breadcrumbs, because that way I can use sprouted organic whole grain, not available in store-bought bread crumbs. These croquettes also make terrific leftovers warmed up later for a fast, satisfying meal. This recipe serves four, which is two meals for the two of us.
Tjatjiki is a garlicky, cucumber, Greek yogurt sauce that is sublime. I've made it since the 1980's, and it is a summer favorite, especially terrific with fresh garlic right out of the garden or farmer's market. I think it is best enjoyed with these croquettes, although you could use it as a dip for crudités as well.
I suppose you could serve this in pita bread with chopped tomatoes like traditional falafel, but I would rather skip the bread, especially since there are breadcrumbs in the croquettes. I served it as seen above with a salad made with our fresh garden peas, mixed with avocado, blueberries, tomatoes, parsley, and a light meyer lemon vinaigrette.
I've also served the croquettes recently vegan without the tjatjiki, with a little flaky Malson sea salt instead. As shown in the last photo below, I served it with cabbage/fennel/jicama slaw and fruit salad. The croquettes by themselves were a little dry that way, so next time I will make a vegan version of tjatjiki for them, by mixing hummus with some almond milk and substituting that for the yogurt. They would be great vegan with roasted tomatoes on top as well!
Since the croquettes are served hot, and the tjatjiki is chilled, make the tjakjiki first and let it chill while you are making the croquettes…
I hope you give this delicious summer meal a try; it is packed with plant based protein and crowd appeal.
Recipe for Tjatjiki
2-3 clove fresh garlic, crushed
2 teaspoons olive oil
1 teaspoon white wine vinegar
1 cup Greek yogurt
1/2 a large cucumber, grated and water squeezed out
Salt and pepper to taste
Stir gently together and chill before serving.
Recipe for Chickpea Croquettes
2 cans chickpeas, rinsed and drained
1/2 cup scallions, both white and green parts, minced
5 fresh garlic cloves, minced
1 teaspoon fresh rosemary leaves, minced
1 teaspoon kosher salt
Grated zest of 1 lemon
juice of 1/2 lemon
1 egg
1/2 cup flour (I use sprouted spelt)
1/4 cup bread crumbs (I make homemade with two slices of bread, see below)
1/4 cup toasted sesame seeds
grapeseed oil
First make the breadcrumbs: toast two slices of bread (I use Ezekiel), then grate it, then sauté it on medium-low heat with a tablespoon of olive oil, stirring frequently, until all moisture is gone, about 10 minutes.
Put the sesame seeds in a dry sauté pan and toast over medium-low heat, stirring frequently, until golden brown.
Put the scallions, garlic, and rosemary, in the food processor and whirl until minced. Add the salt, lemon zest, lemon juice, and egg, and whirl until well incorporated.
Add the drained chickpeas, flour, sesame seeds, and bread crumbs, then pulse until it is a fairly uniform texture, careful to stop before it turns into too smooth a puree. You want it to form into balls that hold their shape, neither too crumbly, nor a batter. See the photo below for consistency.
Heat a few tablespoons of grapeseed oil over medium high heat. Form golf-ball size croquettes and then squash them in your palm, making flattened three inch patties. Place them in the skillet as you make them, cooking three minutes on the first side, and flipping to cook 2 minutes on the other side. When done, transfer to paper towels to drain, while continuing to cook the rest.
Serve hot topped with chilled tjatjiki. Enjoy!