Moroccan Lentil and Chickpea Soup (Crockpot Recipe)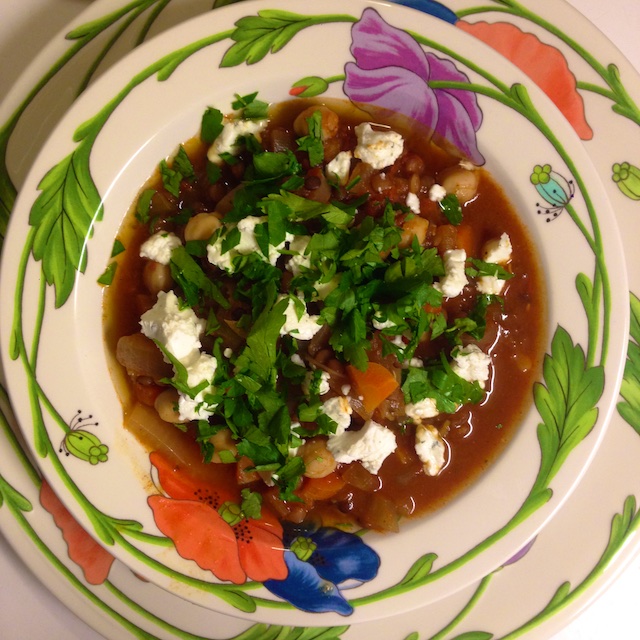 This is delicious, different, quick and easy, as well as nutritious and inexpensive. You'll need to get some Harissa for this (shown below) which is a really nice spice to add to your collection. This is a flavor explosion. It is pretty spicy, without being hot the way cayenne is. Give this a try if you want something out of the ordinary, but don't have much time. It serves 6-8 and freezes well too.
Crockpot Recipe: Moroccan Lentil and Chickpea Soup
1 1/2 cups green lentils
1 sweet onion, chopped
1 inch fresh ginger, grated
2 cloves garlic, minced
3 carrots, chopped
1 red pepper, deseeded and diced
1 14 oz can diced tomatoes
4 cups vegetable broth
2 Tablespoons red harissa
2 teaspoons smoked paprika
3/4 teaspoon cumin
3/4 teaspoon cinnamon
1 teaspoon kosher salt
freshly grated pepper
1/2 lemon, juiced
1 14 oz can chickpeas
fresh cilantro, chopped for garnish
crumbled goat cheese, for garnish
In the crockpot, combine the lentils, onion, ginger, garlic, carrots, red pepper, tomatoes, veggie broth, the harissa, paprika, cumin, cinnamon, Kosher salt and pepper. Stir to combine. Cover and cook on low for 6-8 hours or on high for 4-6 hours.
Just before serving, stir in the lemon juice, chickpeas, cook until heated through.
Serve topped with crumbled goat cheese and fresh cilantro. Enjoy!