Recipe: Roasted Vegetable Masala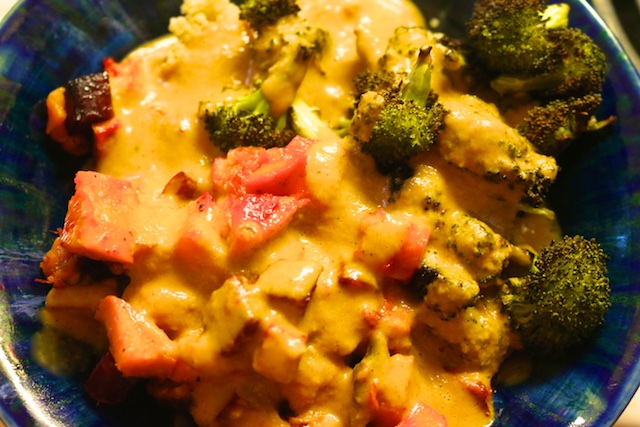 This is delicious, and not hard to make, although it takes an hour. I got the recipe from the Christian Science Monitor (see here) and then tweaked it a little.
This sauce is very flavorful but not at all the "hot" kind of spicy. If you don't own the spice "garam masala", this recipe is worth buying it for; it smells great and tastes wonderful! I got ours at Whole Foods.
This makes more sauce than you'll need, so you'll have great leftovers to pour over some other roasted veggies in your near future. Invite your vegan friends over, they'll love this!
2 beets, diced
1 large sweet potato, diced
3 1/2 tablespoons of olive oil
4 cups broccoli, chopped
two small onions, or one large one, diced
5 garlic cloves, minced
3 teaspoons of garam masala
1 tablespoon freshly grated ginger
1 teaspoon ground cumin
1/2 teaspoon cayenne pepper
1 1/2 cups tomato sauce
2 (14 oz) cans of lite coconut milk
1 cup of quinoa
cilantro, chopped for optional garnish
salt and pepper
Preheat the oven to 400ºF.
Chop the beets and the sweet potato and combine in pyrex roasting pan with 1 1/2 tablespoons of olive oil and a generous amount of salt and pepper. Stir and arrange in one layer. Bake for 50 minutes, or until fork tender.
Toss the broccoli with 1 tablespoon of olive oil, and some salt and pepper. Arrange in a separate baking pan and bake for 30-40 minutes, until fork tender.
Put 1 cup of quinoa in two cups of water, bring it to a boil, and then reduce the temperature to a simmer. Simmer for 15 minutes until fluffy. Set aside.
In a large sauce pan, heat the remaining tablespoon of olive oil over medium heat. Add the onion and cook for a few minutes before adding garlic, garam masala, ginger, cumin and cayenne. Cook with spices for a couple minutes before adding tomato sauce and the lite coconut milk. Mix to combine, bing to a simmer, and cook for 20 minutes. Season the sauce with salt and pepper, and then blend the sauce with an immersion blender or regular upright blender until smooth.
To serve, layer the quinoa and roasted veggies, and top with the sauce and chopped cilantro if desired.
Serves 4. Enjoy… wow. It is so good!