Book Review: House of Thieves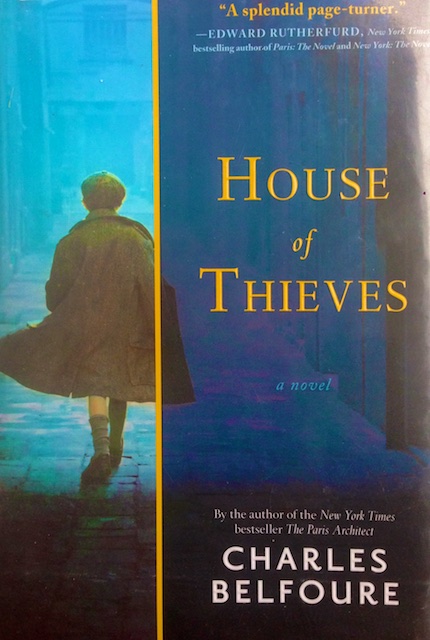 I read this book for my book club, and below you can see a photo of us after our Skype interview with the author, which we found to be interesting. Unlike the Paris Architect by the same author (which I reviewed here), this story is without a moral overtone. It harkens back to New York City during the Guided Age, full of high society on the one hand (with relatives of the rich and powerful Caroline Astor) and squalor, poverty, and depravity on the other (with street urchins, pickpockets, and henchmen.) This high contrast is what makes this book interesting, I think.
The author, an architect himself, sets his books around architectural themes, and in this book the main character is again an architect, but one that unexpectedly turns to a life of crime. The unsavory characters he meets and the degenerate street view of the city are reminiscent of Charles Dickens.  Debauched, it is like watching To Catch a Thief, which totally transports you from your daily life, into a romp of adventure on the dark side. Most novels are about breaking a ten commandment, but very few are totally focused on stealing. I'll take that theme over adultery any day.
The author told us last night that the Paris Architect has sold as a movie, but that this book has been bought by the people who do Gray's Anatomy to become a TV series directed by the same director as the Hunger Games. That fact explains the ending a bit, in case there is another season for the TV show.
This book is page-turning, undemanding, and not at all redeeming. It depicts a range of motives for crime, as well as the sad, debilitating, and addictive nature of gambling. The author says sometimes we get tired of being good, and hanging out among fictional thieves at two am in the misty streets of New York City in the 1890's is the perfect remedy. If that's how you are feeling lately, and as long as your expectations are not terribly high, you might enjoy this diverting novel. I give it 3.5 stars.