New Poem: Being the Mother of Adult Children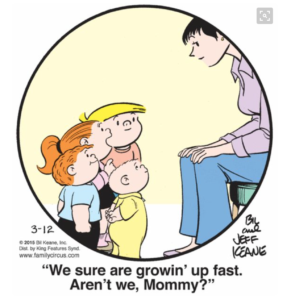 Being a Parent of Adult Children
It is bittersweet, but oh so freeing.
I don't think I've ever loved
anything better than being a mother.
So being hands-off with them
can be challenging,
even excruciating, at first,
but somehow I survive
and maybe even soar.
From a standpoint
of wisdom and experience
it is easy to cringe
at the choices they sometimes make
and it is a marvel as I look back
and wish for do-overs
not just in what I could have
emphasized in their upbringing
but more –oh my gosh–
I think that I would be
so much better now
if I got to be a young adult
all over again
knowing what I know now.
But they are not doing it
like I'd do it again
if I got another chance,
and that's okay.
And there is so much they don't get
that I just can't tell them.
And admittedly,
maybe I can't fully relate
because the times
are very different now
with so much technology
and so many more options.
But then again,
I know more than they do that
nothing ever really changes that much.
Labels are to be defied not accommodated,
and excellence and universal kindness
will always be relevant
as are a good night's sleep
and clean hair.
But all I can do is offer that
unconditional, unfazed, unjudgemental smile
that my dear God must wear out towards me
and exercise fastidious patience
beyond what I ever wanted to learn
and be grateful for how good I have it
because truly, of course,
my kids are wonderful.
I focus on fulfilling my purpose,
painting and praying,
and brushing my own teeth.
I haven't lived life
just to pass it along.
There are things
I need to do myself,
and somewhere, in the
infinite celestial beyond,
my own Mother is tacitly
cheering me along as well,
for in many ways my own opportunity
wasn't so much squandered as a young adult
as it is just now being launched,
and I am at liberty as never before
to arch up and searchingly meet it,
head on and unencumbered.
Exciting,
if a little daunting,
I think now
what I would want
my kids to do
in my situation,
and then go and try
to earnestly do that myself.
That is so much better for everyone
than me thinking
what I would have them do
if I was them.
Cherishing them,
I hold them in a marvelous place
both mentally and spiritually,
and silently applaud everything good
while rejoicing in their
health and independence.
I endeavor to realize
that they are clad in divine Love
where evil cannot touch them.
I remind myself that
God alone is in charge
of what they should modify.
The Christ itself speaks directly
into their human consciousness
in a way they can completely understand
and be humbly obedient to.
It is not my job to advise them,
and I relinquish the suggestion
that I was ever a director of their play.
We were always destined to be equals
growing up together
under God, indivisible,
and hopefully as friends.
This wide detour
called motherhood was really
just a short term stewardship gig
of what was never actually mine
and the baton has been
successfully passed off.
Their path is their own
and they are rising up to face it
with unentangled ownership.
Meanwhile, I'm finally
on my way again.
by Polly Castor
9/26/16