Our Youngest Turns 18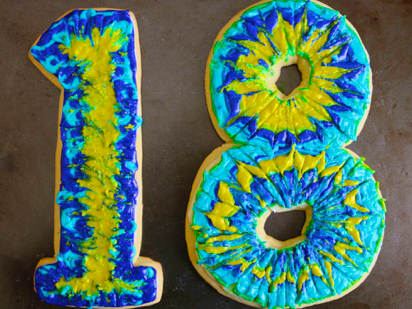 We had a nice small celebration for our youngest turning 18, as you can see in the photos below.
The three top gifts were from her three aunts: a necklace, and two gift cards for books on her kindle. The bottom two larger packages were from us. In the copper colored wrapping was a "utility skirt" that Laura had admired, it is twirly and green and has awkwardly enormous pockets that she loves, which can carry all manner of tools and reading material. Then in the large silver wrapping, we gave her a big sea turtle that she wanted; it was not what I expected to give her for her eighteenth birthday! But she adores turtles and says she wants to take this "friend" to college with her. And so she begins her official bridge into adulthood.
For those newer to the blog, our tradition is to make a huge birthday cookie (the size of a cookie sheet) for the birthday honoree to decorate, along with normal sized ones for every one else. I thought Laura did a great job of decorating her cookie this year. Don't you agree?
For her candlelit birthday dinner, she wanted swordfish with herbed lemon pepper butter, which we served with twice baked potatoes and Martinelli's bubbly in goblets.
We love this girl and are very grateful for her presence in our lives!