Our Daughter Finds an Apartment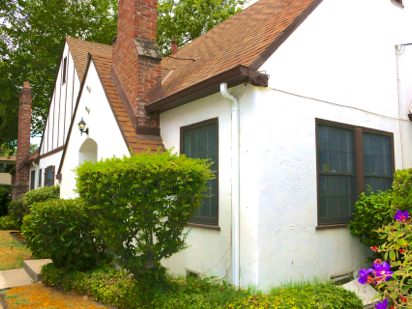 We knew this was the place the minute we walked in. We had seen some awful apartments, many good ones, and this one great one. I thank God that it has worked out for her.
We had the advantage of being one of the first few to see it, but still had some cliff hanging moments as others tried to either preempt our daughter or outbid her to get it. In the end, after talking to our daughter's references, the land lady quipped that it seemed like she should be applying to our daughter for the honor of having her in the place, rather than the other way around.
It is in the Midtown area of Sacramento, which is where our daughter wanted to be. From there she can walk or ride her bike to work. The area is remarkably human scale for how close it is to downtown. Who would have thought she could get a one bedroom cottage of her own in the center of a big city?
The apartment has the good natural light, wood floors, and general spaciousness that were priorities for our daughter. Its drawback is a lack of laundry facilities. The antique tile in the kitchen and bath are a blast from the past, while the twenty foot kitchen has wood paneling and built ins that are a perfect setting for my parent's dining room table.
We were praying for the right place to become available, discovered, and confirmed during the limited time frame that we had come out to look. I am so glad for not only for the apartment itself– which is great–but also for the harmony in which it transpired.