Homemade Caesar Dressing Recipe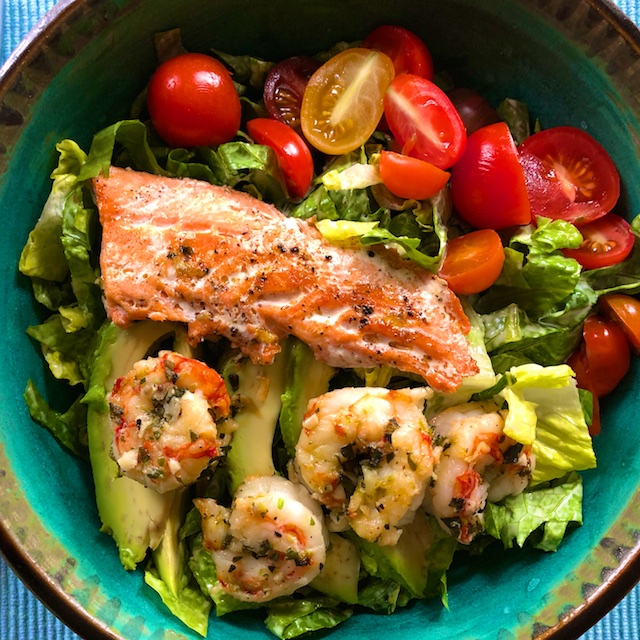 The Caesar dressing I used to buy is full of bad fat and some unpronounceable ingredients, but is a flavor we really enjoyed. I finally have hit upon a homemade version that doesn't even miss the parmesan, which I'm not eating right now being on the Whole30 for 180 days. Put it in or not, either way this is delicious on salads and burgers, or as dip for veggies.
I have a mini food processor that I do this in, but an immersion blender, or a regular blender or food processor would work fine too.
Remember to set your egg out the night before to have it at room temperature when making the dressing.
And yes, I think the anchovies are critical to making this so yummy. Buck up! They disappear once blended in.
This makes about a cup's worth as seen in the photo. Keep unused portion in the refrigerator until next time.
Caesar Dressing Recipe
1 egg (room temperature)
1 cup avocado oil
2 cloves garlic, peeled and pressed
2 anchovy filets
1/2 teaspoon Dijon mustard
1/4 cup freshly squeezed lemon juice
1 teaspoon kosher salt
1/2 teaspoon black pepper
1 Tablespoon grated parmesan, optional
Crack room temperature egg in your blender or food processor. Very slowly, drizzle in the oil while you continue to blend. Once emulsified, and the garlic, anchovies, and Dijon mustard, salt and pepper, and blend. Slowly drizzle the lemon juice in, until well blended. Add parmesan, if desired.
Enjoy!