My New Poem: An Era Ends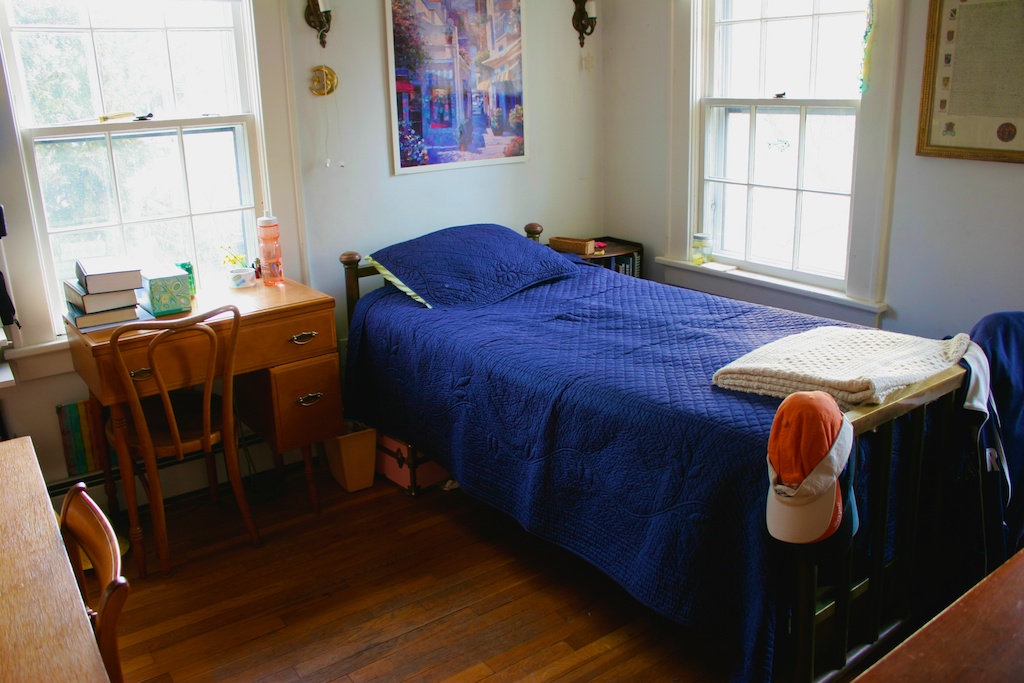 An Era Ends
 
It is normal and good.
No big deal in one way.
Totally obvious and natural.
 
But still there is a twinge.
 
We were expecting her
when she first visited that room
still in the womb
and it was in that space God gave us a sign
and we knew we would buy this house.
 
My parents gave us a weeping cherry tree
as our housewarming present when we moved in
so we planted it where she could see it outside her window:
just a stick in the ground then, but as tall as the house now.
 
There were the playpen years in that room,
and an early sentence urgent from the crib:
"Mama come see moon."
 
A toddler bed followed
with tea parties for stuffed friends
and the young hostess decked out
in garlands of necklaces "all fancy."
 
On her fourth birthday
we gave her a beautiful dresser as her present
and moved in a brass twin bed
that my husband had before we were married.
It was a big girl's room now.
 
Did we imagine then the day
she would move them with her to grad school?
No, I don't think so –
riveted in the moment by moment joy
of parenting her.
At that age, she was just starting to read.
Did we foresee then that we would homeschool her,
and that she'd do her high school studies in that room?
No, nor could we have predicted the thousand books
that would line her shelves there all these years later.
When decoding her first phonics,
we did not anticipate
that eventually she would be able to
read Plato in Ancient Greek.
 
As she has grown, the room has gotten smaller.
At college she had a room four times its size.
When the weeping cherry tree
covered her second story windows
with blindingly pink blossoms
she wasn't here to notice it.
The room lay in waiting
for her on holidays and vacations
which were few and far between.
She'd come home and freshen up her domain,
invariably move the books around (adding a few more)
and sprint off on her next adventure.
 
But now the brass bed frame is getting repolished
–oh how it gleams again–
and the mattress and box springs
are in the downstairs hall
next to the empty dresser drawers
ready to go out the door,
likely never to return.
 
She will still blow through here, alighting occasionally
and her room will eventually become a guest room
after languishing in a heap of transition for a while
unmoored and drifting
until we can tackle it and pin it down
with renewed vision.
 
Meanwhile, the puffy little moon and star still dangle
from the sconce she so often left on while she slept
and tonight she wants to sleep in a sleeping bag on the floor
lingering, rather than take up more comfortable options.
 
Wistful but matter–of–fact
an era we loved with all our hearts ends,
while our awesome oldest daughter is still getting started
in new and wonderful ways.
 
 
Polly Castor
6/27/13