Book Review: The Help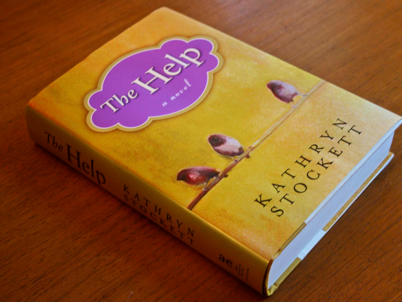 I liked this book by Kathryn Stockett and give it 5 stars. This recently released novel is about black help in white homes in the early 1960's. Through the voices of three women, one white woman in her early twenties, and two black maids, it clarifies the complexities of these relationships complicated by the climate of the times as well as the location of Jackson, Mississippi. Both love and antipathy between the races comes out in realistic ways, and even though there are some harsh realities portrayed, subversive hope is even more depicted. The reader has the advantage of knowing what has (or has not) changed since that time.
Black women raised the white children in 1960 Mississippi. Here are a couple interactions between black caregivers and white children in the book:
"Constantine sat down next to me, at the kitchen table. I heard the crack of her swollen joints. She pressed her thumb hard in the palm of my hand, something we both knew meant Listen. Listen to me.

'Ever morning, until you dead in the ground, you gone have to make this decision.' Constantine was so close, I could see the blackness of her gums. 'You gone have to ask yourself, Am I gone believe what them fools say about me today?'

She kept her thumb pressed hard in my hand. I nodded that I understood. I was just smart enough to realize that she meant white people. … All my life I'd been told what to believe… but with Constantine's thumb pressed in my hand I realized I actually had a choice in what I could believe."
"'Come on, Aibee,' Mae Mobley say to me after her mama gone. 'Time for my secret story.'

We go on in her room, where we like to set. I get up in the big chair and she get up on me and smile, bounce a little. 'Tell me, tell me bout the brown wrapping. And the present.' She so excited, she squirming. She has to jump off my lap, squirm a little to get it out. Then she crawl back up.

That's her favorite story cause when I tell it, she get two presents. I take the brown wrapping from my Piggly Wiggly grocery bag and wrap up a little something, like a piece of candy, inside. Then I use the white paper from my Cole's Drug Store bag and wrap another one just like it. She take it real serious, the unwrapping, letting me tell the story bout how it ain't the color a the wrapping that count, it's what we is inside."
There was another story told a child about Green Martian Luther King. And one maid realizes the power of telling her white charge regularly good things every day. It was wonderful to see these "powerless" black maids as agents of subtle change.
I'm glad I read this and gained a window into a world I knew nothing about. This book highlights that even ordinary people need to be very brave and that all sorts of little actions have consequence. I was also glad to have affirmed once more that there is not much that separates us, which is a great message to walk away with.