Another Visit to Olin College of Engineering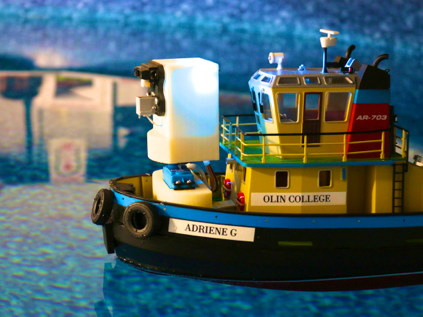 Of the four colleges our daughter looked at in the last two days, her other favorite was Olin College of Engineering. (I've discussed this place a few times on this blog already since her brother was enamored by it as well.) Getting in here is a very long shot for anyone since they only take 80 kids each year: 40 boys and 40 girls. This style of hands-on collaborative teaching of innovation is something that I feel should be duplicated more widely and available to more kids!
This was my fourth visit, but I saw some things I hadn't seen before. We learned that visiting colleges in the fall has the advantage of small, individualized tours. By contrast to my son's info session which filled an auditorium, we had a one-on-one with the assistant of admissions.
We went behind the scenes to see the Sailbot, which they are working on getting to cross the Atlantic unmanned. Isn't that cool?
We also ate in the school cafeteria, which I had never done, and the food is good, complete with the same Fiestaware dishes we have at home.
This college will be the reason our daughter probably won't apply early to anywhere next fall, since Olin does not have an early admission program. So we've confirmed this school is on her list although admission here is unlikely. But otherwise, she would always wonder…
The whole elite student body fits in the auditorium shown below.