Recipe: Winter Vegetable Fish Chowder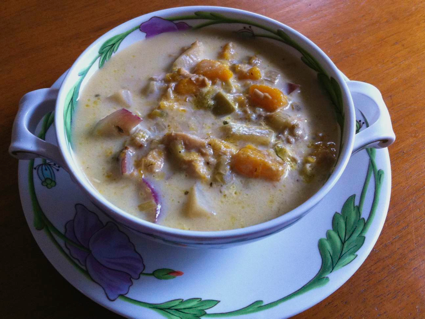 This is a really good, nourishing chowder. Not too rich, it resembles more a wonderful chicken vegetable soup (at least as far as I remember since I haven't had chicken in thirty years!) Warm and comforting, it is a complete meal in a bowl, and not hard to make either. It's snowing here today, so even though it is officially spring, this wintery dish feels totally appropriate!
Recipe for Fish Chowder
6 medium leeks, cleaned and cut in 1/2 thick slices
2 tablespoons olive oil
4 medium stalks of celery, chopped
3 medium parsnips, peeled and chopped
2 medium red potatoes, cut in 1/2 inch pieces
2 pounds butternut squash, peeled, seeded, and cut into 1/2 inch pieces
1 32 oz boxed container of vegetable broth
4 cups water
4 tilapia loins, thawed
1/2 teaspoon chopped fresh thyme
1 teaspoon salt
3/4 teaspoon coarsely ground black pepper
1 cup cream
In a 6 quart sauce pot, heat oil over medium heat until hot.
Add leeks, celery and parsnips and cook until all vegetables are tender (about 12 minutes stirring occasionally.)
Add potatoes, squash, broth, water, tilapia, chopped thyme, salt and pepper. Heat to boiling over medium high heat, then reduce to medium low, and simmer until potatoes and squash are tender, about 10 minutes. Stir well making sure the tilapia has broken up into small pieces throughout.
Stir in cream and heat through for 13 minutes. Serve immediately.
(This recipe makes eight main dish servings, and makes great leftovers as well.)
Enjoy!