Recipe: Great Homemade Dressing for a Terrific Apple Salad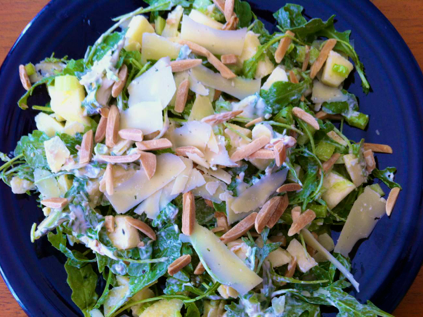 This is destined to become a favorite!
For the Dressing:
1/4 teaspoon fine grain sea salt
12 fresh rosemary leaves (the spiky needles), minced
1 medium garlic clove, peeled
1 teaspoon sugar
1/2 cup organic sour cream
2 1/2 teaspoons white wine vinegar
freshly ground black pepper to taste
For the Salad:
3 large celery stalks, thinly sliced
2 crisp organic apples, peeled and thinly sliced
4 handfuls of arugula or baby romaine
1/3 cup toasted almond slivers
some hard, aged cheese
To make the dressing, crush the sea salt, rosemary, garlic and sugar into a paste with a mortar and pestle, or smash it all together with a knife.  Work in the sour cream and vinegar and a bit of pepper.
When you are ready to serve, combine the celery, apples, salad greens and most of the nuts with half the dressing. Top with shavings of the cheese and the remaining nuts.
This serves two as a main dish or four as a side.
Enjoy!