Wonderful Gifts I Received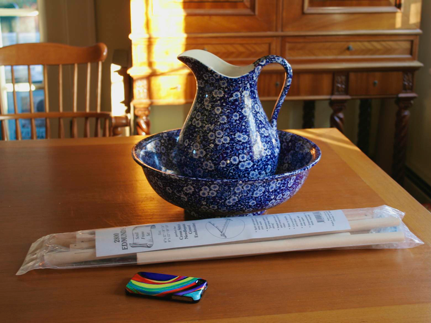 You blog readers may recognize the gorgeous pitcher and bowl set my husband gave me; I had drooled over it last October in a visit to a consignment shop that I blogged about.  I never dreamed he would return and buy it for me.  On Christmas morning, he left clue #1 at the bottom of my stocking, which took me on a treasure hunt, where I came upon a huge box five clues later. On top of the box was a poem so sweet it made me cry, and the contents as you can see are beautiful and totally unexpected.
My daughter Virginia gave me a custom cell phone case she had made for me with my own artwork on it!  I love it!  And one of my sisters gave me a replacement frame for a large needlepoint project that has been long stalled due to a broken frame.  I'll be glad to get that going again! Also a cousin and blog reader surprised me with the Scallop cookbook I loved: I truly wasn't hinting for it on the blog: I just thought it would make a great present which it does!
Thank you!  See close-up photos below…