"Spitting in the Wind"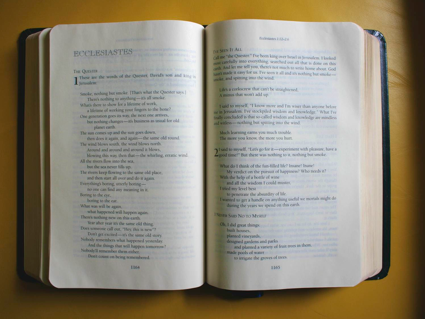 Very timely for me, I read today the book of Ecclesiastes from the Message version of the Bible. Below I quote from the translator's preface to the book and then a bit of the text. Interestingly, "Vanities" was repeatedly translated as "spitting in the wind." I loved that.
"Ecclesiastes is a famous witness to this experience of futility. It is…in the Bible to call a halt to our various and futile attempts to make something of our lives, so that we can give our full attention to God – who God is and what he does to make something of us. Ecclesiastes actually doesn't say much about God; the author leaves that to the other sixty five books of the Bible. His task is to expose our total incapacity to find the meaning and completion of our lives on our own. … It functions not as a meal but as a bath. It is not nourishment; it is cleansing. It is repentance. It is purging. We read Ecclesiastes to get scrubbed clean from illusion and sentiment, from ideas that are idolatrous and feelings that cloy. It is an expose and rejection of every arrogant and ignorant expectation that we can live our lives by ourselves on our own terms."
"Seize life! Eat bread with gusto,
Drink wine with a robust heart.
Oh yes – God takes pleasure in your pleasure!
Dress festively every morning.
Don't skimp on colors or scarves.
Relish life with the spouse you love
Each and every day of your precarious life.
Each day is God's gift. It's all you get in exchange
For the hard work of staying alive.
Make the most of each one!
Whatever turns up, grab it and do it! And heartily!
This is your last and only chance at it,
For there's neither work to do nor thoughts to think
In the company of the dead, where you're most certainly headed.