Recipe: Red Lentil and Vegetable Soup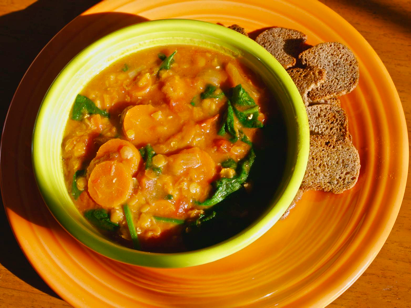 This warm, nourishing soup was perfect for lunch today, a day that was all of two degrees when we woke up! And this is not only delicious but very quick and easy to make. It took me all of a half hour from the first chop to the table, and it generates just the right amount: four main dish servings. Give it a try for a satisfying chilly day meal.
Red Lentil Soup with Vegetables
1 tablespoon olive oil
4 medium carrots, peeled and chopped
1 small onion, chopped
1 teaspoon cumin
1 can (14 1/2 oz) diced tomatoes
1 cup red lentils
1 can (14 1/2 oz) vegetable broth
2 cups water
1/4 teaspoon salt
1/8 teaspoon ground black pepper
1 bag (5 oz) baby spinach
In four quart saucepan, heat oil over medium high heat until hot.
Add carrots and onion; cook until tender and lightly browned, 6 to 8 minutes.
Stir in cumin; cook 1 minute.
Add tomatoes with their juice, lentils, broth, water, salt, pepper; cover and heat to boiling over high heat. Reduce heat to low; cover and simmer until lentils are tender, 8 to 10 minutes.
Just before serving, stir in spinach.
This came from the cookbook below, borrowed from the library…
Enjoy!