Back to My Usual Haunts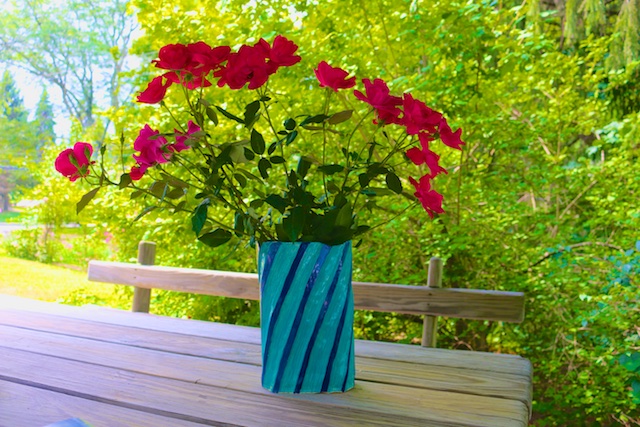 After our trip and the excitement of getting our youngest off to college, we have settled back into life as usual. But as often happens after a refreshing time away, I came back with new eyes, for what otherwise is the "same old." As you can see, Life is good!
Above are our roses in my handmade vase on our picnic table that serves not only for meals but as my office for much of the week.  The first photo below shows me back at church bringing flowers for the auditorium; these lovely hydrangeas were rescued from our blackberry patch. Then terrific ice cream from the Ferris Acres Creamery, and a photo of a delicious salad at Stanziatos.  
Back to grocery shopping, the interesting thunderstorm clouds were over our supermarket, the first Jackfruit I've ever seen was in Ridgefield Organic, and the vivid flowers were in the cooler at Holbrook Farm. 
In the middle of this post, you can see me out walking, in the bizarre early morning light in our neighborhood, or more grandiose architecture shots taken walking on Main Street in Ridgefield before church services. I enjoyed being back at a library book sale too, where I was good and only bought 8 novels for $11.25.
Best of all, I have returned to the Quarry and have made up time by enjoying three days swimming there all by myself. As I said about it on Facebook and Instagram, "I don't remember ever swimming here alone before. Immersed in the unruffled reflection, I feel so languid that I'm liquid too; floating, I meditate that I also reflect the glory from above." Bliss all around.
Not so usual, however, is the orange nail polish our daughter chose for me before leaving for school. I leave soon myself for the special treat of Creative Arts Camp, from this wonderful place of feeling so grounded and at peace. I'm grateful!