Warm Mushroom Salad with Fresh Peas and Pine Nut Parmesan (Recipe)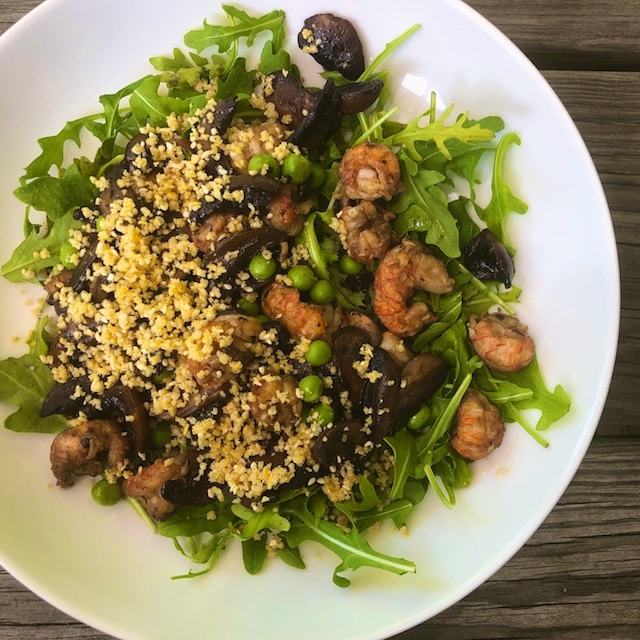 This dish is at once filling and light, which is a rare and wonderful combination. Additionally, it is delicious and quick to make.
The Pine Nut Parmesan comes from the marvelous vegan food blogger The First Mess. This warm salad is a variation on one of hers as well.
She uses beans instead of the langostino, which you can trade back if you want it vegan. You can also trade either for the protein of your choice.
My other changes are not using all balsamic vinegar, for that seems over powering to me, and there are other flavors I prefer. Feel free to use all balsamic if that sounds good to you, or substitute the other half of the vinegar with whatever interesting flavored vinegar you have on hand. I got my garlic one at the garlic festival last fall. The vinaigrette for this salad is made in the pan as you cook the mushrooms, and it wilts the arugula just the right amount as you pour it over. So don't cook it down too dry for you want some of this yumminess still liquid in your pan.
Also, I added the peas because they are beautiful and fun; they make this prettier too, as well as changing up the texture a bit.
This serves three, as above.
Warm Mushroom Salad with Fresh Peas and Pine Nut Parmesan Recipe
For the Pine Nut Parmesan:
1/2 cup raw pine nuts
2 Tablespoons sesame seeds
2 teaspoons lemon zest
1 Tablespoon nutritional yeast
1/2 teaspoon garlic powder
sea salt and freshly ground pepper to taste
For the salad:
olive oil
1 pound cremini mushrooms, stemmed, wiped clean, and sliced
sea salt and freshly ground pepper to taste
1 teaspoon fresh thyme leaves
2 garlic cloves, pressed or minced
2 Tablespoons balsamic vinegar
2 Tablespoons flavored vinegar (I used garlic vinegar)
1/2 cup fresh peas
3 large handfuls of langostino, thawed and squeezed dry
First make the pine nut parmesan, by combining the ingredients in a food processor, and pulsing until you have a crumbly texture.
Heat 2 Tablespoons of olive oil on medium heat in a large saute pan. Put all the mushrooms in the pan and let them sit there without stirring them, for a couple minutes. Season them with several grinds of fresh pepper and the thyme. Flip the mushrooms and let them sit again for over a minute. Now season with salt and add the garlic. Stir until well combined.
Add two more tablespoons of olive oil to the pan, along with all the vinegar. Stir again to combine. Add the langostino and the peas to warm for the last couple minutes.
Place a mound of arugula on each plate. Top with the hot mushroom mixture and its juices. Then garnish liberally with the pine nut parmesan.
Serve immediately. Enjoy!
Isn't that refreshing and different?