Two Delicious and Easy Appetizers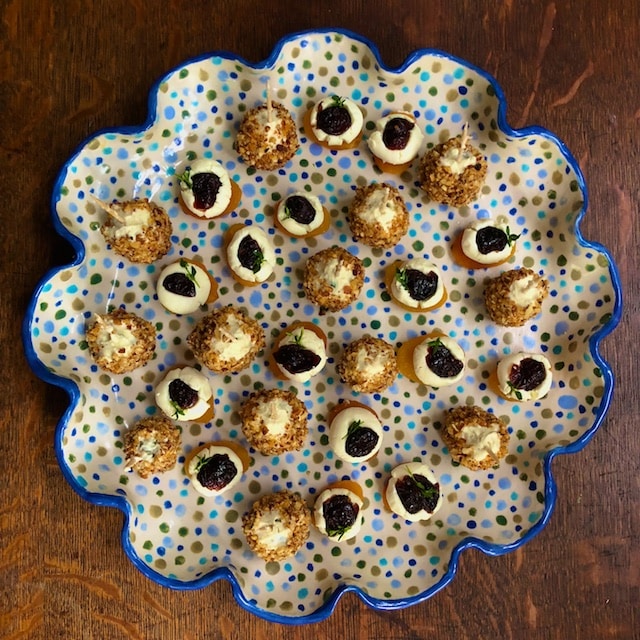 Here are two simple ideas for crowd-pleasing appetizers.  I made them last night to take to dinner at the house of a fellow blog reader of yours. They come together quickly; you can make them ahead, and keep them in the refrigerator until time to take them to your event.
(And since someone will ask: yes, I made the scalloped edged serving platter too.)
Nibble #1:
dried apricots
goat cheese
dried cranberries
fresh thyme for garnish
Roll the goat cheese into a little ball in the palm of your hand. Place it on a dried apricot.  Press down on top of it with a dried cranberry, and then garnish it with a bit of fresh thyme.
Nibble #2:
organic grapes
Boursin Garlic and Fines Herbs cheese
toasted pecans, chopped tiny in the food processor
First place your pecans in a 350ºF oven for a few minutes until starting to brown, then chop them finely in a food processor. It's a bit messy, but wrap each grape with a light covering of Boursin cheese, and then roll it in the pecans. These will need a toothpick for serving, so you can put it in either before or after rolling in the nuts. One container of cheese only covers as many grapes as shown below. Also, encourage folks to eat these in one big bite.
Give these a try and you'll be glad you did. Yum!