Won't You Be My Neighbor (Movie Review)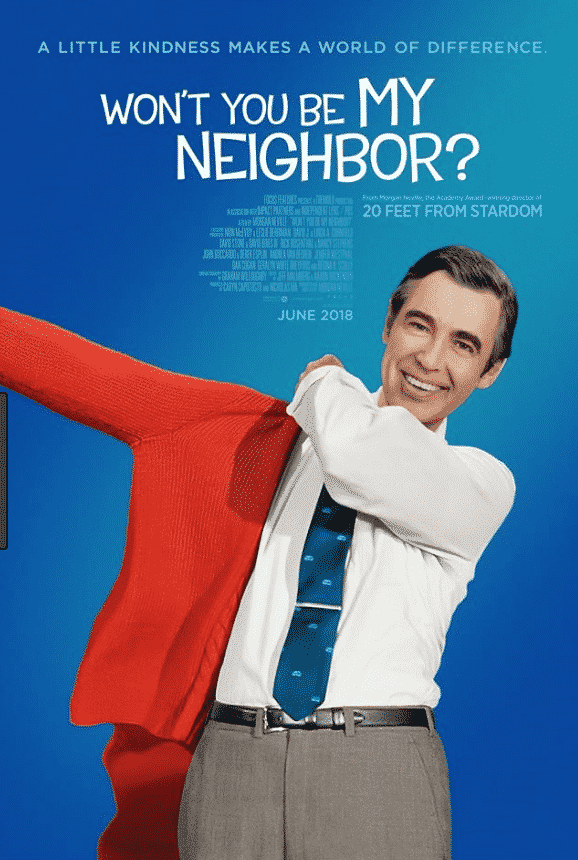 I absolutely loved this movie and encourage you to see it. It is not often I would give a documentary 5 stars, but this one deserves that ranking 100%.
I did not grow up with much television, and in fact did not have a color set in the house until I was a senior in high school. I did not grow up watching Mr. Rogers, yet without his influence, we share the same motives and hopes, and a deep need for being participants in the healing of the world.
He was creative and spiritual, and loved everyone exactly as they are. He was perceptive, and courageous, both meek and bold simultaneously. He believed in the power of goodness and quietness. He played with stuffed friends, and was prolific in his work. He addressed the issues of his day, head on, and with kindness. He thought everyone was valuable and worthwhile. He didn't find slapstick entertaining and wanted meaningful interactions instead. He listened, and the power he wielded was not his own. He was humble and not always convinced he was making a difference. He remembered how it felt to be a child. He thought dying well meant still having hope.
I loved the scene when he obtained the colossal funding from PBS by reciting a little song of his about helping children make better choices when they were mad. I loved the subtle Bible references of loving our neighbor as well as loving ourselves, of washing feet, of fairness, equality, and unconditional love; he was ministering without church or collar or congregation. I loved his vision of television as a place to bring us all together– could we please have a little more of that? And of course, I loved the scene of him with the gorilla.
He made goodness a palpable ideal to strive for. He embraced and encouraged human dignity, decency, and integrity. He was an example for us all. As some ask about what would Jesus do in any situation, you could also successfully ask, "What would Fred do?"
May we all follow these examples more. May we all be loved exactly for who we are. May we all be counted in the end as sheep rather than goats. And may we agree with him that, "The best things in life are unseen."
This movie of a life well lived is impressive, touching, and inspiring. See it if you haven't already. It is worth seeing even if you do not have a personal history as a fan of the show. It will make you want to strive to be one of the "helpers" in our world, at a time when we are very much need of them.