Grain Free Banana Muffin Recipe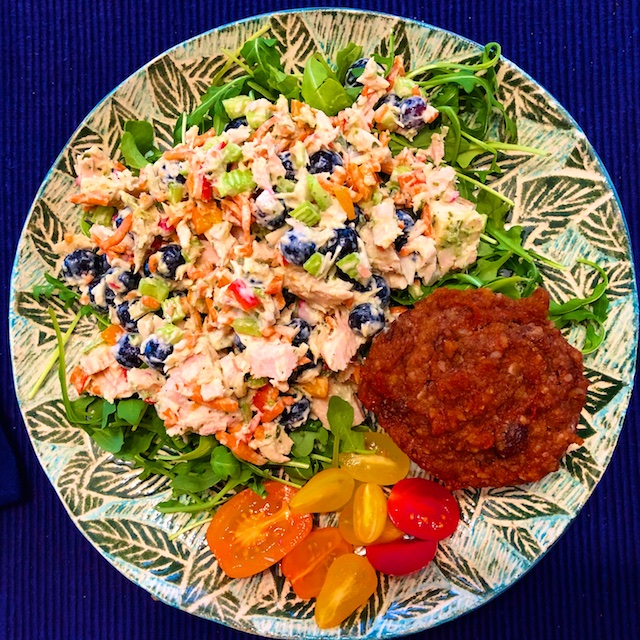 These are delicious and are great for those limiting grain or sugar.
Leftovers store well, and in the last photo, you can see we like them cut in half and warmed up as well.
Grain Free Banana Muffin Recipe
2 cups almond flour
1/2 cup unsweetened shredded coconut
1 1/2 teaspoons baking powder
1/2 teaspoon baking soda
1 heaping tablespoon cinnamon
3/4 teaspoon salt
4 medium very ripe bananas
3 large eggs
3 tablespoons ghee (or butter), melted and cooled
1 1/2 tablespoons honey
1 tablespoon apple cider vinegar
1 teaspoon lemon zest (grated on a microplane)
1/4 cup chopped pecans
3/4 cup shredded carrrots
1 large handful of raisins
Preheat oven to 325ºF
Line muffin pan with liners or grease with ghee or butter.
In a large bowl, whisk together the almond flour, coconut, baking powder, baking soda, cinnamon, and salt.
In a separate bowl, beat the eggs, and then whisk in the ghee (or butter), honey, vinegar, and lemon zest. Mash the bananas and stir them in.
Combine the wet ingredients with the dry ones, and mix until just combined. (Do not over mix.) Fold in the carrots, the pecans and the raisins.
Divide the batter among the muffin cups, filling each one 3/4 full. Put in the oven and bake for 35-45 minutes, until the tops are golden brown and an inserted toothpick comes out clean. Place on a cooling rack for about five minutes.
Enjoy!