My First Clay Sculpture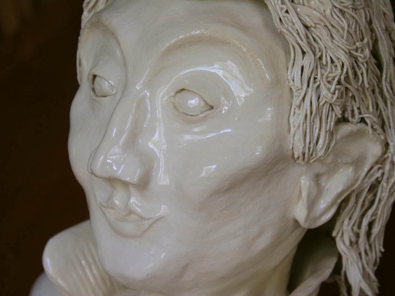 I've never tried anything like this before, and it took a long time to do in little bits over many months. When I mentioned in my "Centering" blog entry (see here) that I had been hand-building for a long time, this is part of what I was referring to. Some of the constraints I had in doing it this way was that the clay hardened before I was done shaping it. I was also too timid at the beginning –a little weirded out by physically forming a face– and that made me too tentative. If I ever do one again, I'll work faster and more assertively especially at the beginning. But I really enjoyed this project as it was a peaceful, meandering process full of trust and unfoldment.
The extruded hair was fun to do and took a lot of time as well as squeezing strength; it was the biggest gamble since it is very fragile and may not have survived the process. I am fortunate only one piece fell off. During the making of this, it initially looked like an alien and there were those in favor of me leaving him bald. But I forged ahead. Since I was already out of my depth, going in a little deeper didn't seem to matter. I think the interesting texture helps the piece.
Yes, it is hollow; one of the other challenges was it could not be too thick anywhere. Who is it? No one in particular. I called him "my guy," but it certainly could use a better title if you can think of one. It took a long time to dry before it could be fired, be glazed (clear), and then fired again. It came home this morning to surprise my family who knew nothing about it — I had been rather circumspect since there were so many things that could have gone wrong. I'm glad to have him home at last! Where will we put him? On the front table for a while, but eventually he'll find a home in my office to remind me how excellent God is as the real "potter."
Below you can see pictures from other perspectives.