Collard Wraps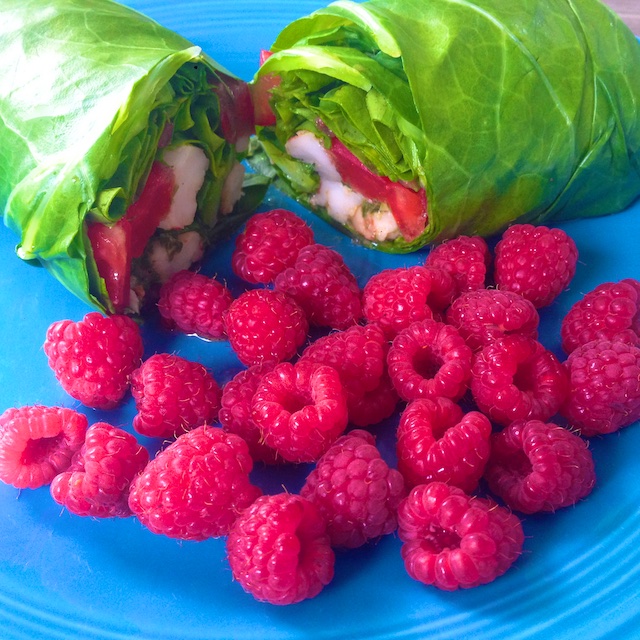 When last week I promised you a post about  bread-free sandwiches, I was thinking of these collard wraps. They are surprisingly good.
First, you take a large collard leaf (I got mine at the farmer's market) and use a filet knife to carefully remove the raised part of the stem's main vein so the leaf remains intact while the tough difficult to chew part is removed. Trim off the bottom stem where the leaf begins, so you have a shape like a tortilla.
Next you need to steam your leaf until it is bright green. This will make it more tender, easier to chew, and more enjoyable. Alternatively, you can braise it or sauté it in a skillet for a couple seconds as you would to warm a tortilla.
(If all this has you scratching your head, check out a few of the copious "collard wrap" videos on YouTube like I did. Trust me, making these is really easy to do.)
Once your leaf is ready, you fill it like you would a burrito or another sandwich wrap, and then roll it up, folding in the ends. I like to cut ours in half on the diagonal to make eating it easier.
What to fill it with? Be creative! The one above is left over shrimp, with pesto, tomatoes, and arugula. Below is tuna salad with carrots, cucumbers, avocado, minced celery, and tarragon dressing. You could also fill it with your favorite fish taco filling. Or make a veggie wrap with hummus. Or fill it with what you would put in a breakfast burrito.
These will stay together just fine in a little snap-lid container for a healthy lunch on the go.
Give it a try!