Book Review: Under the Wide and Starry Sky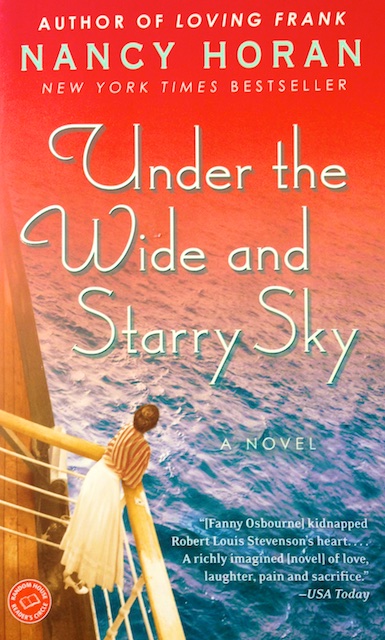 This historical fiction is about Robert Louis Stevenson and his wife. Split almost equally before and after the time of their marriage, it was a pleasure to read a love story that did not end at a wedding, but carried forth into all the complications of marriage and esteemed career.
It made me want to read Treasure Island, Kidnapped, and Dr Jekyll and Mr. Hyde, as well as his Garden Full of Verses. I previously knew very little about their author, let alone his wife. This book follows their adventures through Europe, Scotland, America, and the South Seas. In the Pacific, they were some of the earliest travelers to record what life was like there before the indigenous cultures were changed forever by the influences of the west.
This novelist does a masterful job at telling the story of these writers. It is done so throughly that you come away feeling like you read a biography about them, but without the dryness that implies. History blends here effortlessly with a sweeping story arc. With all of their published writings, both of books and letters, there was a lot of factual information to go on. It was woven together seamlessly, clarifying two rather complex, flawed, but remarkable characters, who you are glad to come to understand. 
If you've got some time, you might enjoy this one. I liked it, even though at over 90 chapters, it seemed very long. I give it four stars.