Movie Review: Cinderella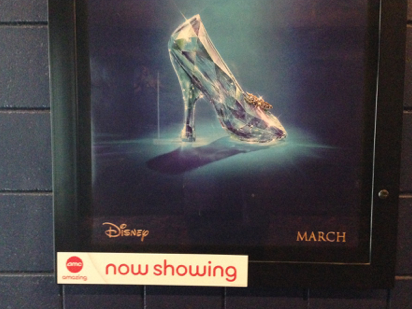 I thought the new version of Cinderella that came out this past weekend was marvelous. I absolutely loved it, and even though some people complain that it is "one dimensional" and not cutting edge, I give it five stars for doing the classic story justice in a beautiful way.
It hit just the right chord with its moral: "Have courage and be kind," which is something children and adults alike can't hear too much. Thankfully, the prince wasn't some stupid oaf (although he could have been better), and I liked that they met before the ball. The step-mother was duly awful, but in an understated way: no toes were cut off in this version! The fairy god-mother was over the top, but I thought the mice and the lizards were terrific.
The cast was great, and you'll recognize both the actresses for Cinderella and one of the step-sisters from Downton Abby. Both Cinderella's house and the castle were wonderful, but her gown for the ball–especially that skirt– was perfectly gorgeous. It was so fun to watch her dance in it!
Through our kids, we've become connoisseurs of fairy tales, and I thought this version was great. Take the whole family.