Recipe: Wild Rice & Tilapia Casserole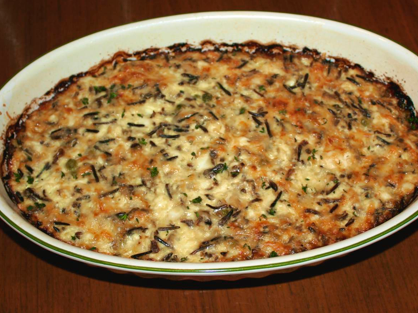 This healthy casserole tastes like comfort food, and it is easy to make too! It can also be assembled ahead of time and baked when needed.
Wild Rice Casserole
2 large eggs
1 cup cottage cheese
1/2 cup sour cream
1 teaspoon Dijon mustard
sea salt
1 tablespoon olive oil
8 ounces cremini mushrooms, chopped
1 large yellow onion, finely chopped
3 cloves of garlic, finely chopped
2 cups wild rice, cooked
3 pieces of tilapia, poached
1/3 cup Gruyere cheese
1 teaspoon fresh thyme, chopped
Preheat oven to 350˚F, with a rack in the top third of the oven.
Rub a medium-large baking dish with butter. (The dish I use is slightly smaller than a classic 9" x 13" baking dish.)
In a large bowl whisk together the eggs, cottage cheese, sour cream, mustard and a 1/2 teaspoon of salt.
In a large skillet over high heat, combine the olive oil with a few pinches of salt, and then add the mushrooms. After the initial stirring, leave the mushrooms alone until they release their water and that water evaporates: about 5 minutes. Continue to cook, stirring occasionally, until the mushrooms are browned. Add the onion, and cook until it is translucent, about 3 minutes. Stir in the garlic, cook for another minute, and remove from the heat. Add the rice and tilapia to the skillet and stir until combined. Then add in the cottage cheese mixture, and stir well. Pour this into the prepared baking dish.
Sprinkle with 2/3 of the grated cheese and cover with aluminum foil.
Bake for 30 minutes. Remove the foil and bake for another 20 to 30 minutes, until the casserole takes on a lot of color. Remove from oven and sprinkle with the chopped thyme and the rest of the cheese.
Enjoy!!