Recipe: Hungarian Cookies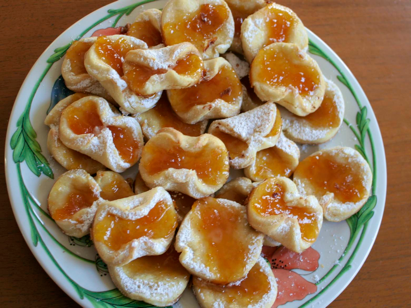 Blog reader Ronna shared this recipe with us maybe ten years ago and we love it. (The dough is not overly sweet, containing the surprise ingredient of cream cheese.) We made these three times over the recent holidays. Yesterday we had the opportunity to share a few with Ronna and were told she herself had lost the recipe. So Ronna, here is your Aunt Kay's recipe back, safe and sound. Yet another example of how we keep what we would share!
Dough:
1 pound butter
1 pound cream cheese
Sift 3 cups flour with two teaspoons of baking powder and 2 tablespoons of Confectioners sugar
Mix everything until smooth. If dough is sticky add more flour.
Fillings:
1/4 jar apricot preserves
1 can apricot solo (we omit this without sacrificing results)
mix together
or
2 cups ground nuts
1/2 cup milk
1 cup sugar
mix together
Roll out dough. Using a small juice glass cut out circles. Place filling in the center. Lift sides and pinch in middle. You may use a beaten egg white where you pinch the dough to keep it together. Bake at 350 degrees for 10-15 minutes or maybe a little longer until done. They should be light in color. While cooling, sift additional Confectioner's sugar over them.
Try them and enjoy!