Recipe: Green Egg Bake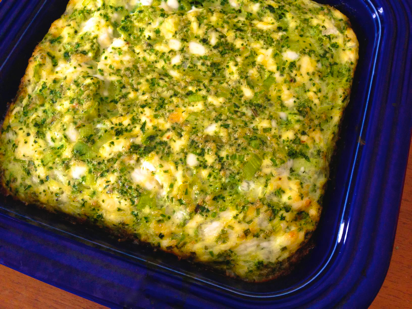 This is good, and even our teenager liked it, who doesn't think she likes cooked spinach. She told me to make it again! I faked her out by chopping the spinach in my food processor, but you can skip that step if you'd rather have full leaves of spinach running through it. This makes six servings, and warms up well for quick leftovers on busy weekday mornings.
Preheat oven to 375˚F.
1 leek, white and light green parts chopped
2 tsp olive oil
5 oz container of baby spinach leaves (used whole or chopped small if desired)
10 eggs
2 teaspoons of garlic powder
salt and fresh ground black pepper
2 Tablespoons fresh chives, chopped
1/2 cup cottage cheese, rinsed with cold water and drained well
3 oz soft goat cheese, crumbled (easier to do if put in the freezer for ten minutes)
Heat olive oil in a frying pan with taller sides and then add the leeks, sautéing them for 5 minutes. Add the spinach leaves and sauté 5 minutes more.
While the vegetables are cooking, beat the eggs, add the garlic powder, salt and pepper to taste, and the chopped fresh chives.
Butter a 8" x 8" casserole dish. Spread the leek/spinach mixture in the bottom of the dish (you can see that step in the photo below), and then layer on top of that the cottage cheese and goat cheese. Pour the egg mixture over it and stir gently with a fork to make sure the ingredients are evenly distributed.
Bake for 20 – 25 minutes until the eggs are set and lightly browned, puffing up a bit. (It will settle a few minutes out of the oven.) Serve hot.