My Sister's Family Comes For Lunch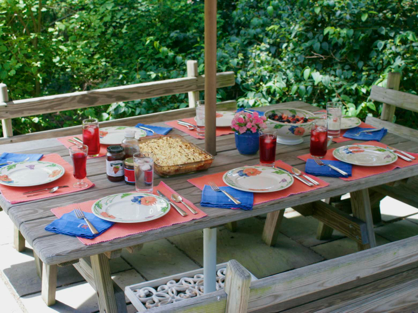 To most of you this event may not seem newsworthy, but this is the third time these folks have visited in the 20 years we've lived here.  With my parents living where they do, we have most often seen them only on their own turf.  Today they were traveling from Washington, DC, to New Hampshire, and we were the stop over for lunch.  It was so lovely to have them come by!
We served food from this blog; click links below for the recipes:
Baked Shrimp with Tomatoes and Feta
(berries) and…
Triple Chocolate Chunk Cookies (too eager to eat them to take a photo, apparently!)
and the day was beautiful for eating outside at our picnic table.
Our niece just finished her first year teaching kindergarten, and she did a great job… we are so proud of her!  For her birthday present, I spent last Friday afternoon scouring a Scholastic warehouse discount sale buying her easy readers for her class. I had fun doing that too (but went a little overboard) and was so glad she liked them!
Much love all around… eventually this week they are heading to Acadia, one of our favorite places but their first time there…