Recipe: Triple Chocolate Chunk Cookies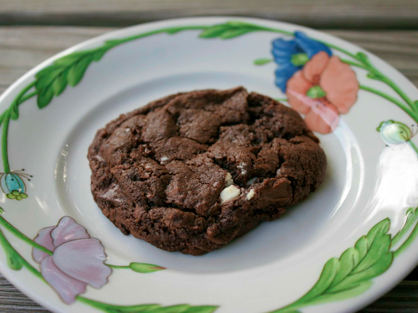 I got this recipe from blog reader Patti, who got it from blog reader Anne, who got it from someone else, who I think got it from the Barefoot Contessa. It is the kind of recipe that if you have ever eaten one hot, you'll be asking for the recipe too, and so the chain will continue. They are delicious and are not inexpensive to make because they take a boatload of chocolate, which is of course why they are so good. The batter is excellent too (so beware of snitchers!) and Patti freezes them in balls, popping them in a Ziploc bag after they are frozen to cook up hot ones at the ready any time she wants them (like to impress guests like me!) Thanks Patti!
Triple Chocolate Chunk Cookies
2 sticks of butter, room temperature
1 cup light brown sugar, packed
1 cup granulated sugar
2 teaspoons vanilla
2 extra-large eggs, room temperature
2/3 cup unsweetened cocoa
2 cups flour
1 teaspoon baking soda
1 teaspoon salt
1 1/2 pounds combination of good white, semi-sweet, and milk chocolate – coarsely chopped (1/2 pound each)
Preheat oven to 350˚F
Cream butter and both sugars until fluffy.
Add the vanilla, eggs (one at a time) and mix well.
Add the cocoa and mix again.
Sift together the flour, baking soda and salt and add the above just combined.
Fold in the chopped chocolate.
Drop the dough on a parchment lined baking sheet using a 1 3/4 inch scoop or a rounded teaspoon.
Dampen your hands and flatten the dough slightly.
Bake for 12 minutes (the cookies will seem underdone).
Remove from oven and let cool slightly on pan before eating.
Enjoy!!