Five Reasons NOT to Eat Genetically Modified Foods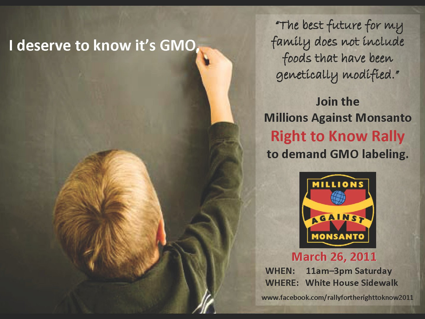 I've been following this issue for a long time as the unwitting use of genetically modified foods escalates. Genetically modified foods are unsustainable, environmentally damaging, unhealthy, and don't even increase yield (other than financially for their creators.) The pushers of GMO products have powerful political lobbyists, and huge profit incentive to keep this issue minimized; there is currently no GMO labeling of products, and no independent, objective governmental research being done about them.
I've been considering generating a blog post of my own synthesis of this issue, but after reading recently the first article below, I realized that others have already done it well and their work just needs to be disseminated. By checking out the links below you'll get a much better sense of the issue and why it is important to stem this tide. Get informed and forward this blog as well to those who need a good summary of the situation.
Five Reasons NOT to Eat GMO Foods: click here
If you want to realize the high percentages of GMOs in your diet, read this: click here
A good Youtube video by "Real Food evangelist Robyn O'Brien": click here
A good Youtube video by homeschooler Birke Baehr titled "What's wrong with our food system": click here
NYTimes article: Food: Six Things to Feel Good About: click here
A good source for sustainable seeds: click here
Action you can take right now: click here
Monsanto, the world's biggest promoter and producer of GMO foods serves only organic food in their own cafeteria. Doesn't that just sum it up?
Note: the images on this blog have been borrowed from the Millions Against Monsanto campaign, who would support the motives of this post.