FIRST Robotics Internationals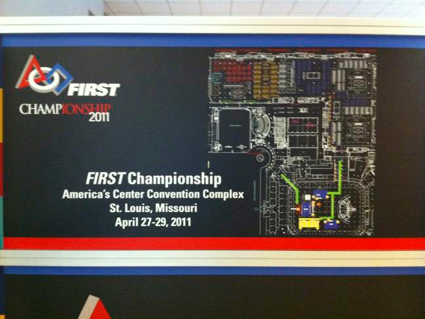 Since my blog readers have been following these developments, I thought I'd share with you all the outcome of our kid's experience at this year's FIRST Robotics International Championship, which just took place in St. Louis. They were very happy to be there, and were pleased with their outcome, especially since two years ago (when they also got to go) they did not do nearly so well.
They did, however, have a few problems to overcome. The first of those was only days before their departure, when a tornado swept through St. Louis and blew out all the windows in the airport, closing it "indefinitely." That gave us pause, but thankfully, it reopened and they left home on schedule, in the middle of the night. But when they arrived at the competition, their robot, which they had crated up immediately after winning the regional competition two weeks earlier in Boston, to be shipped directly to St. Louis, had not arrived! They lost that day when they were supposed to uncrate it and trouble shoot it; they learned it was still sitting on some loading dock in the rain along with three other teams' robots. It eventually arrived at 9:30pm the night before their first preliminaries, allowing them only an hour and a half to uncrate it, with no chance to even take it on a test drive.
That first day of preliminaries didn't go so well for them as they were still getting their kinks out. They had hit their stride by Friday, though, and won every single one of their matches that day! They were flying high; they had climbed to nineteenth place, and shown themselves that they CAN do this! Unfortunately, come Saturday morning, they lost their last two preliminary rounds, which dropped them into 32nd place out of 88 teams. They did not proceed to the finals.
Friday night as a special treat, the competition had invited the popular band the Black-Eyed Peas to perform for the participants. This was met with mixed feelings. Although it was intended to be wonderful, these kids would have more enjoyed a tech show than a crowd trampling, bass thumping, pop music scene, which was so loud you couldn't even hear the lyrics. It seemed like the planners of the event didn't know their audience, and the audience would have done better focusing the last night before the finals instead of being frustrated about being expected to be "cool" in a way that they just are not and don't want to be. Future championships need to make better choices about entertainment, especially since this mistake must have been very expensive for them.
Check out the photos below; my son is the tall one with the ponytail in the hat. The first photo is a close-up of the inside of their robot. You can see the arena and the "pit" which was their home base, where they adjusted their robot. You can also see him working in the hotel lobby on three computers simultaneously. In one shot you can see him and two to his team members being interviewed by Obama's Chief Technical Officer.
They came home exhausted, and mostly talking about ideas for next year…