We Got to the New England Robotics Championships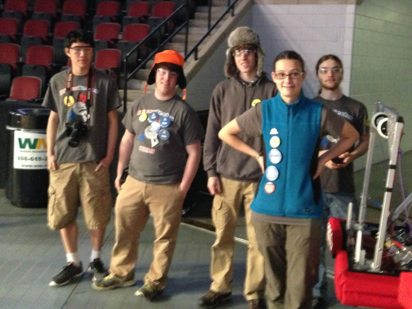 As I mentioned on this blog, build season for our youngest daughter's FIRST Robotic's team was fraught with problems that were mostly weather related. Out of the six week build season, due to snow, they lost about two weeks' worth of time, that unlike other teams who had better access to their buildings on non-snowy days, we were not able to make up.
At some point during all these troubles, God woke me up in the middle of the night and clearly said to me that the team was going to make it to the Boston Championship. A little confounded on the directness of the message, I took it at face value, and went back to sleep. There would be many times in the weeks to come I would wonder about that message.
Our first break occurred when fortunately FIRST allowed the New England area as a whole some concessions due to the weather. They were allowed to "hold back" 45 pounds from being "bagged" instead of the usual 30. Also, they were allowed to unbag the robot for 6 hours after build season was over. Because of these two concessions, and our daughter's team's wise use of them, they were thankfully able to complete their robot before their first match.
This is the first year we have been in a district system, so the format of the competition was slightly different. Our daughter's team had to proceed through two district competitions to proceed to Boston for the New England Regionals, and the winners of the regionals would go on to the international tournament.
Our first regional went well. It was there that we came from deeply behind and actually beat the #1 team (that later won in Boston and is going to Internationals.) In addition, our team was awarded the Engineering excellence award. At the second regional, however, at the luck of the draw, we were paired with weaker teams playing stronger ones. We did not fair so well there.
After every team in New England played in two district competitions, the points would be totaled up for each team to determine who would advance to Boston. The problem was that there was a district competition planned for the weekend before the Boston championship, so no one would know if they would get to advance until the Monday before they had to leave on the Wednesday. As we would see, this was not a good plan, and we hope they change this detail in the future!
When the scores came out on Monday, out of 169 teams, we were ranked at 61. There were only 54 spots at the championship so it didn't look like we were going. However, we were told to hold on because some teams couldn't afford to come, or wouldn't come for other reasons. The deadline for teams to respond with money to reserve their spot was last Tuesday at 5:00. But at 2:00, we were obliged to cancel our Boston Hotel reservations.
But Tuesday evening they still couldn't tell us whether we were in or out. If our team was going, they needed to pack the robot and all their tools, so they did that Tuesday evening, not knowing whether they were going or not. I think that was pretty gutsy. My husband starting searching out other options for the hotel, in case we needed one the next day.
At 10:30 am Wednesday morning, we found out that we got a spot. Our original hotel rooms were restored. A few hours later, at 2:00 I waved off my husband who was chaperoning, snapping the photo in front of the van that would soon hold seven team members. Later we found out we were not the last team let in. Another team was told at 2:00 that they had made it in!
This was quite a life lesson about being prepared whether or not you think you'll get a chance! Because they were prepared, and other teams were not, they were able to go. And to think that God had told me they were going many weeks prior when so many times they came so close to not making it! (That brings up so many questions about foreknowledge that I won't get into here…???)
Anyway… they played well in Boston, but did not proceed to the finals and are not going to Internationals. They lost more than they won, but they won some matches spectacularly as you can see in the photo below of the fuzzy score board (winning 265 to 69). They improved their rankings, and had fun.
After a colossal amount of time invested, robotics season is over. We are proud of the work our daughter has done on this team as an engineering squad leader and member of the drive team. She built the robot's chassis, did all of its electrical work, much of its pneumatics, and taught some freshmen as well. She's physically, mentally, and interpersonally exhausted from it all.
The first photo below, shows our daughter Wednesday morning when we found out she was going to get to go; she was shriekingly excited. It was thrilling as a parent to see her so thrilled. And she earned it, patient and circumspect at every impasse, and prepared regardless of what circumstances were thrown her way. I'm proud of her and relieved this is over until next year!