Our Team at the New England Robotics Championships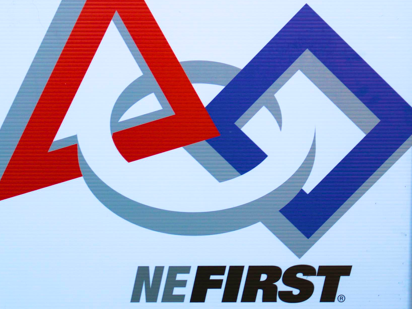 I had a great time watching our youngest daughter's FIRST robotics team compete in the New England Robotics Championships in Massachusetts. I went up to watch the last two days, and it is a suprisingly engaging spectator sport; all the people and action were fascinating, with widely varied approaches to both robot solutions and team style.
The challenge this year was called "Recycle Rush" where the kids had to design robots to stack totes and move them around. If you got a green recycling container on top of a stack of totes, it multiplied the points of every tote below it by three. You got more points as well if you had a pool noodle sticking out the top of the recycling container. Also, in all the playoffs, there are "coopertition" points you can get for both sides by placing a stack of yellow totes in the middle. The first 15 seconds are autonomous, and after that there are two drivers, one student coach and a human prayer that work the robot from the sidelines behind plexiglass for the rest of the 2.5 minute match. Each team played 12 preliminary matches with rotating alliance partners, and the collective points from each alliance would move your ranking up or down.
Out of 179 teams in New England, 60 were in these play-off and we started out in 60th place. We advanced as far as 27th place but didn't hold it, ending up in the bottom of the top quarter of the teams in the whole district before the alliance selection for the finals. We had some catastrophes that you can see in the photos, like an alliance partner's robot falling over during the beginning of the autonomous part of a match, so was no help at all. We were not selected for an alliance at the end, which effectively eliminated us from getting enough points to be considered to go on to the International competition in two weeks.
New England Robotics FIRST Championships had the highest scores in the nation, and is the most competitive district championship. Our robot was as good or better than those of the teams going to Internationals. And notably, in earlier meets this year we have beaten those who came in first place in this competition. At this level, more minor factors like driving ability, networking prowess, and random assignment of alliance partners, differentiate the winners as much or more than the intrinsic benefits of the robots.
Below you can see lots of photos of our team during this championship, and due to my shameless parental bias, they largely feature of our daughter. I didn't weed them out any further to give you more of the flavor of the event, since there is so much motion and expression that is difficult to convey in fewer still shots.
I have more to say about FIRST Robotics, which I think is a terrific program, but will do that tomorrow, when I share the other photos I took of teams that were not our own. Suffice it to say for now that it is hard to believe that our avid participation in FIRST for the last 7 years is winding to a close. I am filled with gratitude for all it has taught our son and younger daughter. Not only do they know how to build a robot, but they also learned a lot of people skills as a result of being involved with FIRST. It has been a huge blessing for two of our high schoolers, for which I am thankful. I am also glad that we began a tradition of this public school team working with homeschoolers, and that this tradition is continuing with three competent homeschoolers continuing on the team next year. Yay #1099!