Recipe: Curried Lentil Soup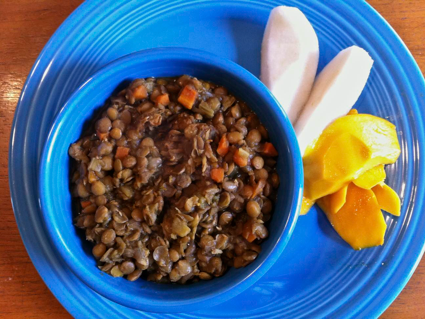 This recipe, based on a classic Indian dish, is bound to become a staple in your soup making repertoire. It is delicious, interesting and satisfying.
Curried Lentil Soup recipe
2 tablespoons olive oil
4 carrots, peeled and finely chopped
2 large stalks of celery, finely chopped
1 large onion (12 ounces) finely chopped
1 medium Granny Smith apple, peeled, cored, and finely chopped
1 tablespoon ginger, peeled and grated
1 large garlic clove, crushed with garlic press
2 teaspoons curry powder
3/4 teaspoon ground cumin
3/4 teaspoon ground coriander
1 package lentils (16 ounces) rinsed and picked through
5 cups water
2 cans (14 1//2 ounces each) vegetable broth
1/4 cup fresh cilantro, chopped
1/2 teaspoon salt
plain yogurt (optional)
In 5 quart dutch oven pot, heat oil over medium high heat until hot. Add carrots, celery, onion, and apple; cook until lightly browned, about 10-15 minutes, stirring occasionally. Add ginger, garlic, curry powder, cumin and coriander, and cook, stirring, 1 minute. Add lentils, water and broth. Heat to boiling over high heat, then reduce heat to a simmer until lentils are tender, 45-55 minutes, stirring occasionally. Stir in cilantro and salt. Serve topped with dollops of yogurt, if preferred (recipe is vegan without it.)
Enjoy!