Today's Newspaper Article By Me: Spiritual Cultivation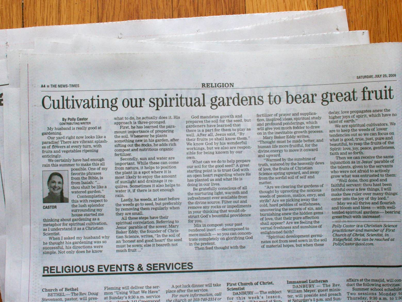 I am a writer for the Danbury New Times Forum on Faith column. Here is the article that came out today:
Cultivating Our Spiritual Gardens to Bear Great Fruit
My husband is really good at gardening; our yard right now looks like a paradise! There are vibrant splashes of flowers at every turn, with fruits and vegetables ripening enticingly.
We certainly have had enough rain this summer to make this all possible. One of my favorite phrases from the Bible, is from Isaiah in the Old Testament: "…thou shalt be like a watered garden." Contemplating this with respect to the lush splendor surrounding our house started me thinking about gardening as a metaphor for spiritual cultivation.
Upon asking my husband why he thought his gardening was so successful, his directions were simple. Not only does he know what to do, he actually does it. His approach is three pronged.
First, he has learned the paramount importance of preparing the soil. Whenever he plants something new in his garden, after sifting out the rocks, he adds rich compost and nutritious, organic fertilizer. Secondly, sun and water are important. While these can come from nature, it can help to position the plant in a spot where it is most likely to enjoy the amount of sunlight and drainage it requires. Sometimes it also helps to water it, if there is not enough rain. Lastly, he weeds, at least before the weeds go to seed, but preferably by removing them regularly when they are small.
All these steps have their spiritual correlation. Referring to Jesus' parable of the sower, Mary Baker Eddy, the founder of Christian Science, writes, "In the soil of an 'honest and good heart' the seed must be sown; else it beareth not much fruit…"
God mandates growth and prepares the soil for the seed, but gardeners have learned that there is a part for them to play as well. After all, Jesus said, "By their fruits ye shall know them." We know God by his wonderful workings but we also are responsible for being known by our own.
What can we do to help prepare our soil for the good seed? A great starting point is to trust God with an open heart regarding where He has planted us and what He is doing in our lives. Be gratefully conscious of all the nurturing light, warmth and refreshment ever available from the divine source. Filter out and remove any rocks or impediments in your thinking that would obstruct God's bountiful providence for you. Mix in compost: your past rendered inert – decomposed to mere mulch – so you can concentrate completely on glorifying God in the present. Then feed thought with the fertilizer of prayer and supplication, inspired ideas, spiritual study and profound ponderings, which will give you much fodder to draw on in the inevitable growth process.
Mary Baker Eddy writes, "Thought must be made better, and human life more fruitful, for the divine energy to move it onward and upward."
"Warmed by the sunshine of Truth, watered by the heavenly dews of Love, the fruits of Christian Science spring upward, and away from the sordid soil of self and matter. Are we clearing the gardens of thought by uprooting the noxious weeds of passion, malice, envy, and strife? Are we picking away the cold, hard pebbles of selfishness, uncovering the secrets of sin and burnishing anew the hidden gems of Love, that their pure affection shall appear? Are we feeling the vernal freshness and sunshine of enlightened faith?"
"Spiritual development germinates not from seed sown in the soil of material hopes, but when these decay, Love propagates anew the higher joys of Spirit, which have no taint of earth."
We are spiritual cultivators. We are to keep the weeds of lower tendencies out so we can focus on what is good, true, just, pure, and beautiful, to reap the fruits of the Spirit: love, joy, peace, gentleness, faith and so forth.
Then we can receive the same injunction as in Jesus' parable of the talents, given to the servants that were not afraid to actively grow what was entrusted to them: "Well done, thou good and faithful servant: thou hast been faithful over a few things, I will make thee ruler over many things: enter into the joy of thy lord."
May we all thrive and flourish and bloom and bless – with well-tended spiritual gardens – bearing great fruit with increase!
By Polly Castor,
Christian Science Practitioner, and member of First Church of Christ, Scientist, Ridgefield.