Recipe: Zucchini Agrodolce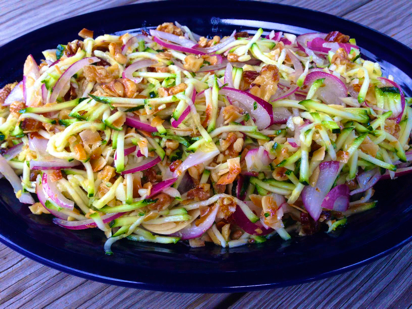 Of all the copious of new zucchini recipes I tried with our summer's bumper crop, I liked this one the best. I found the original recipe on this blog, and have since customized it to more exactly suit our tastes. I kept the name the same as the original recipe, however was previously unfamiliar with the term agrodolce, which translates roughly to "sweet and sour." I love this unusual combination of flavors in a cold salad. I have a mandoline that I used to julianne the zucchini; if you don't have one, chop it in strips by hand or even larger chunks would be fine. This is easy and quick to make unless you take a lot time being fussy about how you cut the zucchini.
3 tablespoons white wine vinegar
2 tablespoons runny honey
4 garlic cloves, minced
1/4 teaspoon fine grain sea salt, plus more to taste
3 tablespoons extra virgin olive oil
1 small red onion, finely sliced, soaked in ice water
1 pound zucchini, julienned
1 cup toasted walnuts, roughly chopped
1/2 cup toasted coconut flakes
4 dates, pitted and chopped
Toast walnuts and coconut flakes.
Combine the vinegar, honey, garlic, and salt in a saucepan over medium heat. Stir until well mixed, and remove from heat and allow to cool. Whisk in olive oil.
Drain the onions and pat dry. In a large bowl combine the zucchini and onion with the vinegar mixture. Toss well with the walnuts, dates, and coconut flakes.
Serves six. Enjoy!