Multigrain Blueberry Pancakes (Recipe)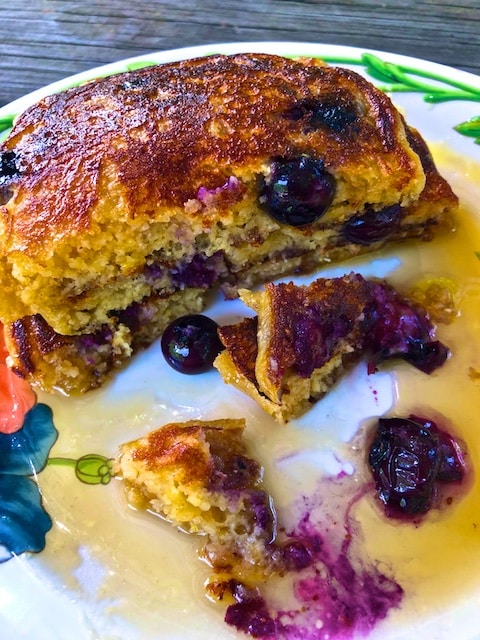 I'm picky about pancakes, and usually don't think they are worth eating. These however, are an exception. These are good enough to have for dinner!
The batter is thick, making a satisfyingly thick pancake, bursting with blueberry and lemon flavor. The lemon taste coming through with the blueberries is what makes these so especially good, along with the hearty, but not heavy texture.
This recipe (adjusted a bit by me) comes from the famous Moosewood restaurant. If you ordered pancakes there, you'd expect something better than usual. And yup, these are worth returning to over and over. Finding a pancake that both my husband and I like is quite a wonderful thing! So kudos to them for this original recipe, which I have halved here for the two of us to use on repeat. You can multiply it for larger crowds as necessary.
This makes 6 4-inch pancakes.
Multigrain Blueberry Pancake Recipe
1.5 Tablespoons butter plus more for skillet
1 large egg (extra large is ok too)
1 Tablespoon pure maple syrup
1/2 cup plus 2 tablespoons plain yogurt
1 teaspoon finely grated lemon zest
1/4 teaspoon pure vanilla extract
1/4 cup rolled oats
1/4 cup organic whole wheat flour
1.5 Tablespoons organic cornmeal
1.5 teaspoons baking powder
1/4 teaspoon salt
1/2 cup blueberries, fresh or frozen
Melt 1.5 Tablespoons of the butter and set aside.
In a bowl, whisk together the egg, maple syrup, yogurt, lemon zest, and vanilla.
In a food processor, whirl the oats for a minute or two until crumbly, but not as fine as flour.
In a separate bowl combine the crumbled oats with the flour, cornmeal, baking powder, and salt.
Stir the dry ingredients into the wet ones only until moistened. A few lumps are fine. Whisk in the melted butter, then fold in the blueberries.
Heat a large skillet on medium heat. Melt some butter on the hot surface and spread it to cover. Pour 1/4 cup of batter for each pancake, leaving space between them. After 3 or 4 minutes, when bubbles start to surface and the pancakes are dry around the edges, turn them over. Cook them 2 to 3 minutes of the other side, until golden and firm on the bottom. (If the pancakes are browning too quickly, lower the heat a little.)
Serve as they are done, or transfer to a warm oven. Add more butter before making each batch.
We like them with a little extra butter and warmed up real maple syrup. Yum!
Enjoy!