Recipe: Pepper, Quinoa, and Salmon Stir-fry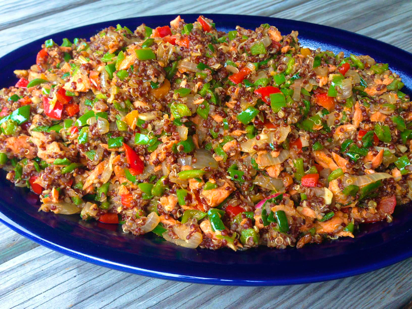 We are flirting with freezing temperatures at night so have been cooking up what remains in the garden. I used the assortment of peppers shown below as the launching point for this for this dish, as well as the leftover roasted salmon I had in the refrigerator. I created this from that off the top of my head, but it was good enough for those that partook of it to demand me to "write it down." So here it is:
1 cup quinoa
2 cups of vegetable broth
salt
4 cups variety peppers (sweet, poblano, jalapeño, and hot), diced
4 diced garlic cloves, minced
1 large onion, diced
2 tbsp olive oil
1 tbsp toasted sesame oil
1 tbsp ginger
1 tbsp maple syrup
1 tbsp tamari
2 tbsp red curry paste
2 cups cooked salmon, flaked
Bring quinoa to a boil in the broth with a pinch of salt, then reduce the heat and let simmer, covered, for 15 minutes.
Sauté the onion and garlic in the mixture of olive oil and toasted sesame oil until soft. Add the peppers, ginger, maple syrup, tamari, and red curry paste, and allow to simmer a while longer (until the peppers are cooked but still a bit crunchy). Add the cooked salmon and cooked quinoa, and stir until incorporated and evenly hot.
Serve immediately and enjoy!