Our Green Smoothie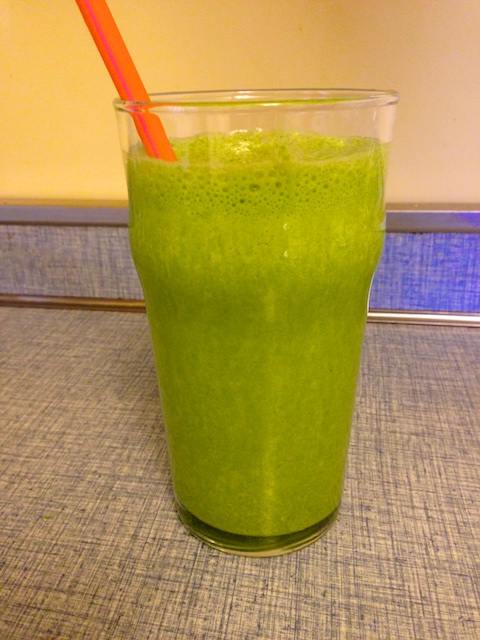 Our green smoothie is a blast of energy and freshness. We usually make it mid week, and we often make extra and put it in a recycled glass jar (with a lid) in the refrigerator, so we can shake it up on the go for a quick, nourishing snack or substitute meal. 
The process starts with a power greens blend, and we get colossal bags of it at Costco. When we get home from Costco, we cram the greens directly in the blender as full and tight as possible, with about 1 1/2 cups of water and then blend. We put this in muffin tins and freeze them into little hockey pucks that we transfer to a ziplock bag when frozen. The huge bag from Costco makes two dozen of these, which we use up in batches of four.
I recommend egg white protein if you've never tried it. And although expensive because not chemical ridden, we like this brand best.  Also, I love the Vitamix we inherited from my mother-in-law, but a blender will work as well.
The recipe I show here is for two people, but the photos below show me making a double batch, which is what I usually do. You can easily scale it back for a single serving if you wish, but even if you are solitary, I recommend an extra bit in the fridge. It stores well chilled for a few days, but in our house doesn't make it that long.
2 frozen "hockey pucks" of super greens
1/2 English cucumber, coarsely chopped
1/2 lime, skin cut off
2 scoops of egg white protein powder
1 cup water, or more as desired
Pile all this into a Vitamix or blender and whir until as smooth and liquid as you like, adding more water if necessary.
Enjoy!