We Need More Like Bernie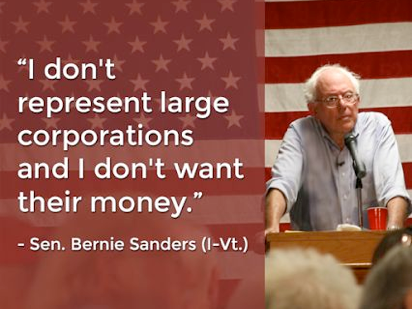 Longtime blog readers will know I very rarely stray into topics like this one. But in thinking about Albert Einstein's famous quote, "The world will not be destroyed by those who do evil, but by those who watch them without doing anything," I feel every once in a while something must be said.
I object to the Supreme Court's decision on Citizen United. I object to billionaires and corporations buying our government and skewing everything in their favor. I object to the exaggerated polarity between the two major political parties. I object to smear campaigns on both sides. I object to elected officials acting as puppets for their sponsors instead of serving their constituencies. What is going to change and how?
At least there is an independent from Vermont – Bernie Sanders – that isn't afraid to speak his mind, defend his constituents, and voice his perspective without allegiance to either big money or to party. I find this not only refreshing but also alarming that this kind of truth telling is so rare.
So I know there are dear ones out there that might not agree with all of the memes shown here, and I share them with absolutely no wish to start a ruckus or a debate. It just seems to me that THIS is what freedom of speech IS about, and not the selling off of our government to private interest groups.
I hope every one of you gets serious about casting your vote on election day, and making sure everyone else you know votes as well. I trust each one of you, along with your family and friends, to make decisions for this country vastly more than I do the big money behind politics!