The Muralist (Book Review)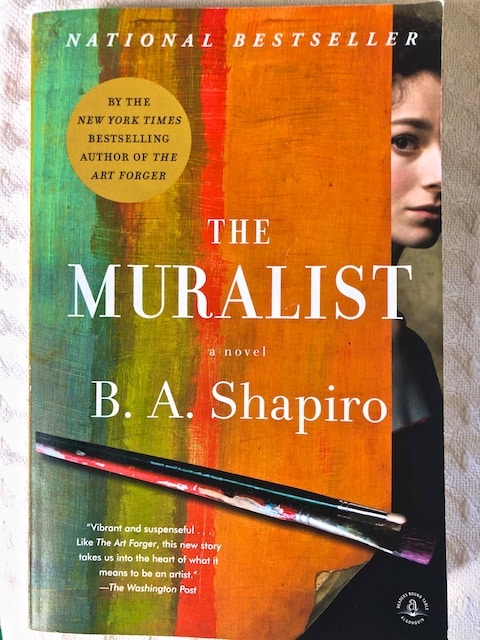 I read this book because I loved the author's former blockbuster The Art Forger (you can read my five star review of that here), and because a friend read this one and gave me her copy, thinking I would like it, which I did.
It is great to have a historical novel about the art world that takes place among the early abstractionists, since most are set among impressionists or the Italian Renaissance. Mark Rothko, Jackson Pollack, William de Kooning, and Lee Krasner are all real artists that worked together on the WPA (Works Progress Administration) painting public murals for governmental buildings during the depression. A fictional main character is placed among them, to show us how their work bounced off one another, which eventually gave birth to abstract expressionism, and the work that would later make them all famous.
Our main character is an orphaned, Jewish American, who is very concerned about helping her extended family flee from Europe early in WWII. In the process, she meets benefactor Eleanor Roosevelt, and learns about an (also real) assistant Secretary of State named Breckenridge Long, who was appointed by FDR. Long was an anti-semite that blocked some 190,000 visas from being utilized by Jews fleeing Europe, in direct opposition to both the law and FDR's policies. More than anything else, The Muralist sheds light on America's culpability in turning away refugees during that man's tenure. This is a historical puzzle piece I didn't know, but now will remember.
There are two threads to this book, one set among the WPA art crowd in NYC in the 40's, and the other 70 years later with the main character's niece working at Christie's, who unravels the story. Maybe I've read this construct too many times, which made it a bit predictable for me. Also there is a mental illness component here, and I roundly reject the tendency to accept or project that abstractionists must have a screw loose in order to be brilliant and ground-breaking in their art. These are the reasons I give this title only four stars. However, I still liked it overall and you might too!