Visit to the New Britain Museum of Art for the Helen Frankenthaler Show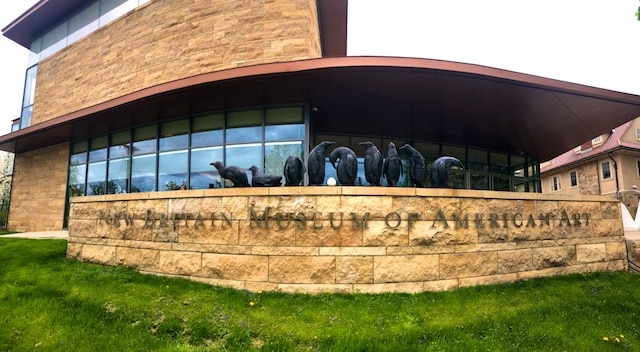 Last Friday, we visited the New Britain Museum of American Art to see the Helen Frankenthaler show of her later works. I had never been to this museum before, and it turns out to be only two blocks past where my Discernment painting is hanging right now.
I've never been a Frankenthaler fan, but I did find one of these that I liked, shown in the second photo below. Things like that pastel (shown in the 7th photo below) with five strokes of pastel are the kind of reason I've not been a fan before. This "work" would never get juried into the most entry level pastel show, but here it hangs in a museum because it is by someone already famous, who only became a name because she married Robert Motherwell, an already well known (male) abstract expressionist. (Such is the case of most of the historically known abstract women. Sonja Delauney, Georgia O'Keefe, and Lee Krasner, for example, were better than their famous husbands, but we only know them because of their male spouses.)
In Frankenthaler's case, there was money and privilege too, which is really what makes the work I liked extraordinary. The incredible piece of super thick, handmade deckled watercolor paper of that enormous size, let alone the space to paint it, was beyond cost prohibitive to most. Then add her willingness to use it up on such a brief splash, counting on chance and hubris to make it. The result in this one case is luminous, but often, to me, her paintings feel empty, dabbled, artificial, or meaningless. I desire more thought, composition, content, and far less posturing.
What I did love is she kept painting through her late years, when others, like my mother, without notoriety to keep her going, eventually stopped her art-making, because watching the paintings pile up was depressing. I do not intend to let that happen to me, so I applaud Frankenthaler for keeping on, maybe more than anything else.
And I wonder… will I ever have the resources, space, and reason to play with painting so large? That is an opportunity I would heartily embrace, and I give my advance consent to that possibility right now. Given the chance, I hope I could be as free with it as Frankenthaler was, and would love to see what I would do with such liberated emancipation!
Below the macro views of the Frankenthaler exhibit room, I include photos of paintings both in the museum's permanent collection and in their other rotating exhibits. It is a nice little museum, and I'll be back. The last photo below shows all the women artists who they've exhibited in the last year, while celebrating the ratification of the nineteenth amendment. If you are local or passing through, this museum is worth putting on your itinerary, along with the one at Yale.