Lady of Quality (Book Review)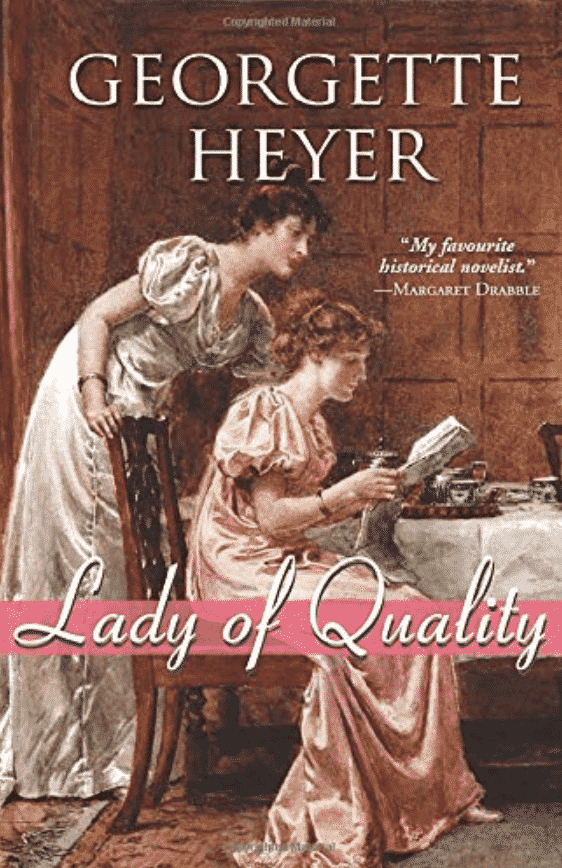 This light reading is what my bookstore owner friend would call a palate cleanser. It is like the little warm finger cloths that fancy restaurants bring you between courses. I've been doing a lot of heavier reading lately, so this one struck me just right.
If you've never read Georgette Heyer before, you have a treat in store for you. This book, which was her last, is not Heyer's best, but it is still a delightful read, and I can't help but give it five stars as well. (If you haven't read her before, read Venetia, reviewed here on the blog. Or you could try Arabella reviewed here on the blog.) Indeed, reading Heyer is the next best thing to reading Jane Austin.
I liked Annis, the main character in this one. She was a strong, independent woman that knew her own mind, and was predisposed to get what she wanted. She is clever, beautiful, kind, grounded, practical, spunky and helpful.
Both Annis and Mr Oliver Carleton are not constrained to conformity, at a time when society was all about that. Each one had economic independence, and both were older than the usual marrying age. Despite their parrying banter, they both recognize each other as kindred spirits from the start. Annis can't figure out why (or even if) she likes Mr. Carleton, but over time, she finds that she can't imagine life without him.
For me, it is the masterly use of dialogue that makes this book exceptional. Annis and Oliver have conversations that last many pages, and their repartee is engaging and sharp, while somewhat caustic and unconventional. I never put the book down during one of their interactions! Alas, I would love a part two to their story.
And the monologues of Miss Farlow, a secondary character, are just brilliantly executed. This character would be annoying in her capability for chatter, but one is kept spellbound by how masterfully it was done. It makes obsequious Mr. Collins of Jane Austin fame read as mild by contrast! Sorry to say, but I got a kick out of not liking her.
The writing is so good here, with such exacting vocabulary it had me looking up words in the dictionary, for example: lachrymose, fustian, quiescent, fichu. This book may be frothy in one way, but make no mistake, it is never stupid, nor risqué.
Lady of Quality, taking place in Bath during the Regency period, was just the frolic I needed right now. With sparkling wit, vivid characters, and a satisfying ending, this short read was a highly entertaining romp. You might enjoy it too.