Cheesy Lentil Cauliflower Soup (recipe)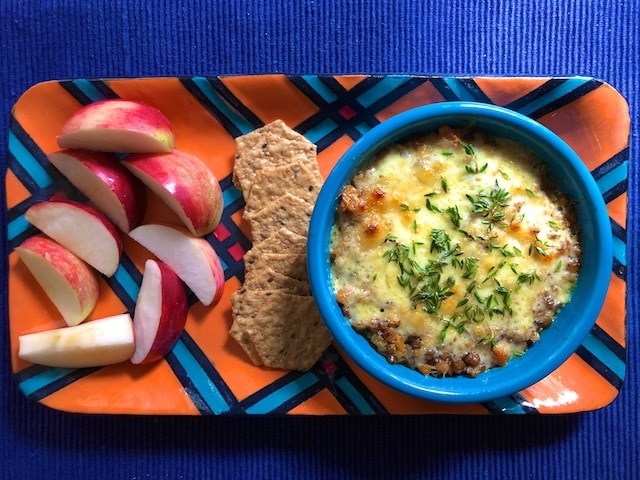 This vegetarian soup is both filling and satisfying. After not eating either lentils or cheese from January-June on the Whole30, this cool weather food feels more decadent and scrumptious than Halloween candy. And it is as easy as it is yummy!
Cheesy Lentil Cauliflower Soup Recipe
2 Tablespoons olive oil
1 small onion, diced
4 stalks of celery, diced
1 carrot, diced
1 teaspoon fresh thyme leaves, more for garnish
sea salt and fresh pepper
1/2 teaspoon garlic powder
1/2 teaspoon onion powder
1/2 teaspoon dried oregano
1/2 teaspoon dried basil
1 cup green lentils, rinsed and drained
1 32 oz box organic vegetable broth
1 12oz bag of riced cauliflower
1/2 cup gouda cheese, grated
1/2 cup Parmesan, grated
Heat oil in a large pot over medium-high heat, adding the diced onion, diced celery, diced carrot, and thyme leaves. Season with sea salt, freshly ground pepper, garlic powder, onion powder, dried oregano, and dried basil. Cook until the veggies are soft, approximately 10 minutes.
Add lentils and broth and bring to a boil. Then reduce to a simmer, covering, until lentils are done, approximately 30 minutes. They will have soaked up most of the broth.
Preheat the broiler with rack 6 inches from the heating element.
Add cauliflower, and raise heat again to medium high again for a few minutes, while the cauliflower bits soften. Season with salt and pepper to taste.
Divide the soup among four broiler proof ramekins or bowls. Top each one with some of both cheeses, and broil until golden and bubbly, about 3-4 minutes.
Garnish with fresh thyme leaves and serve immediately.
Enjoy!