The Amazing Adventures of Kavalier and Clay (Book Review)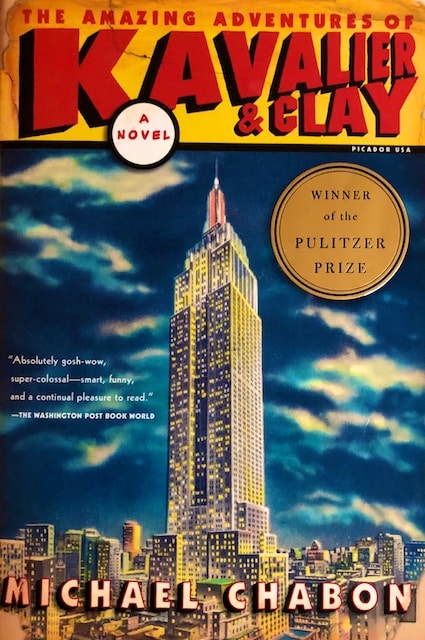 This tour de force, Pulitzer Prize winning novel, at 654 tightly printed pages, took me a long time to read. However, there is no question that it is a masterpiece of excellent writing.
(I've owned a copy of this for a long time, and when I added reading books that won different prizes to my Reading Challenge for this year, I knew this one was one I wanted an excuse to get to. I just didn't know it would take me a whole month to read, so now I am in a bit of a scramble to finish that self same challenge.)
This book is about Joe Kavalier who smuggles himself out of Prague right before World War II, and meets up with his cousin Sammy Clay in New York City, to start together working in the comic book industry, with offices in the Empire State Building. The story chronicles these two Jewish boys and their work over the next 13 years, both personally and professionally, through the war (with no European settings in this novel), and beyond. These adventures include the superheroes they create, as well as rescue efforts for Jewish children, escapist and magic tricks of all sorts, saboteurs, affairs of the heart, a wartime post on Antartica, and the sorting out of each one's sexuality and identity.
It all works out in the end, with each feeling settled and okay with who they are, and well loved, although often confused in the process, after a whole lot of convolutions and deviations along the way. There are many stories within the story here, so these detours keep you reading and engaged, while they contribute more and more incrementally to the overarching story.
I give this blockbuster five stars, and commend it to you if you have the time. I will remember these indelible characters. I now know more about the production of comic books than I ever thought I would, and am reminded again of the resiliency of the human spirit.