Prisoners of Geography (Book Review)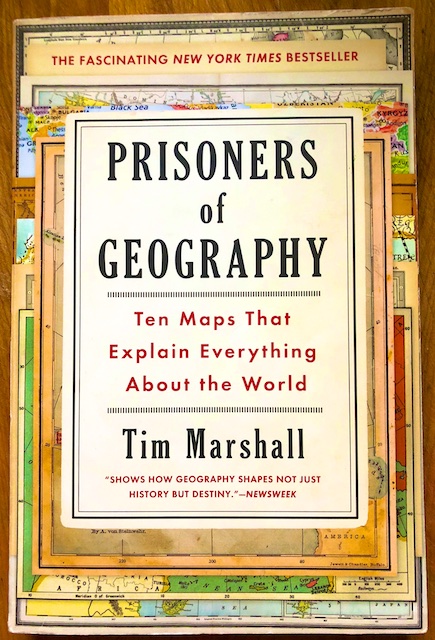 A friend of ours, who used to be a journalist for the Christian Science Monitor, loved this book and recommended it to me, loaning me his copy. I can see why. It is an interesting look at how geography has shaped history, and how it will continue to shape it in the future as well.
I learned many things here, ranging from the fact that Russia spans eleven time zones, to why America should not buy Chinese products for our own preservation. I didn't know China was carving out a canal through Nicaragua, nor that they are Brazil's biggest trading partner, nor that they get a third of their oil from Africa, where they are pouring in money, building ports in Kenya, railroad lines in Angola, and a hydroelectric dam in Ethiopia (which threatens the water supply in Egypt).
I didn't know that in recent years, more than 7,000,000 people have been killed (mostly children) in war in the Democratic Republic of the Congo. I knew that Africa was bigger than the Mercator map shows, but I didn't before comprehend that Africa is actually three times bigger than the United States. I didn't understand before that India and Pakistan are forever rivals, nor that the US spends more on its military budget than all of the other NATO countries combined.
I didn't know how certain boundaries were drawn, and how their usual manner of being drawn by outsiders has had unfortunate – even disastrous– effects.  And I didn't realize the United States is very behind and ill-equipped to stake our claim in the Arctic, which will become critically important in this century for securing our portion of both the control and the resources there.
This book is intelligently written and very readable.  The only part that lagged for me was the section on the Middle East, but maybe that is because I was better informed about that region.  I encourage you read this book to get a more global perspective, based on natural topography that is not generally going to change. This book would be a great read for history book groups, homeschooled high school students, or anyone interested in following current events.
I recommend to you this incredibly relevant book on geopolitics. I'm glad I was urged to read it, and give it 5 stars.