Green Harissa Recipe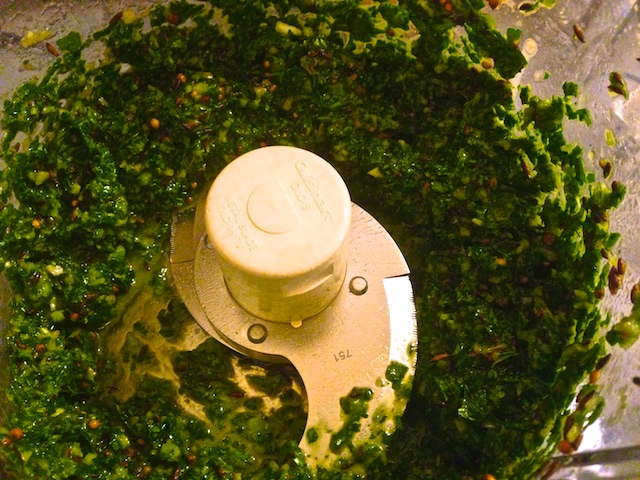 This is great stuff to add to all sorts of things. Try it in a wrap or on eggs. Put it as a sauce on top of protein. Stir it in a casserole or mix into veggies while they roast. Yesterday we had it on salmon burgers.
Consider it something to have on hand in your refrigerator or freezer. I freeze mine in a tiny tart pan and then pop them into a ziplock bag in the freezer, but an extra ice cube tray would work as well. It will also last a long time in the refrigerator.
In the last photo below, you can see three frozen clumps of it, with three pats of butter, on some miscellaneous veggies before I popped them into the oven to roast. It was amazing!
Green Harissa Recipe
2 Tablespoons cumin seeds
1 Tablespoon coriander seeds
2 green chilies, chopped and seeds removed
1 shallot, sliced
2 cloves garlic
1/3 cup good olive oil
1 bunch fresh parsley, stems removed
1 bunch fresh cilantro, stems removed
zest and juice of 1 lemon
big pinch of sea salt
Put the coriander and cumin seeds in a dry skillet over medium heat and toasted them, stirring until golden but not brown.
Blend all ingredients in a food processor.
Enjoy!