Book Review: H is for Hawk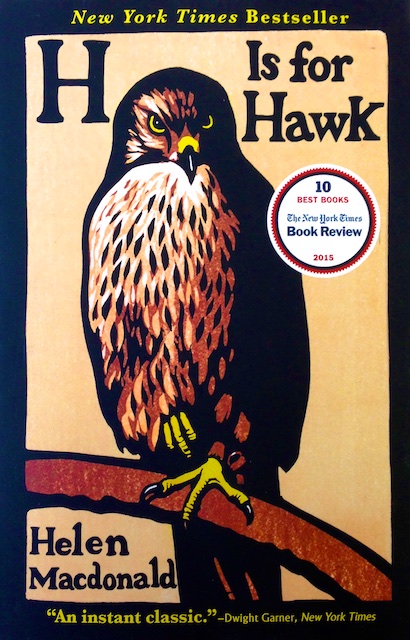 I guess this is why people have book groups. I was reluctant to get involved with a book group, because there is so much I want to read. Why should I compel myself to read something on someone else's list? Well, because you would miss some great things, like this unforgettable title.
I would not have picked this out. The vegetarian in me wants to tell you to run far from this book, which is filled with bloodlust unleashed and carnal brutality. It is about falconry in all its gory detail. It is about death, not only with the goshawk's killing sprees, but also a detailed anatomy of the grief engendered by the passing of the author's father. Interwoven throughout, it is also about T.H. Whyte, the famous author who wrote the Arthurian legend Once and Future King, who as it turns out, was not very likable as a falconer. He considers himself a dictator, was a frustrated homosexual, and was abused as a boy, even though raised in privileged, elite society. None of this describes story lines I would ever choose to read or recommend to you.
But regardless of all that, I can't help myself from giving this masterfully written book five stars. It is exquisitely done, mixing metaphor and imagery like poetry. I wish I could write so well. The language is rich and evocative, but it is also slow-going. How nice that actual fine literature is still being written! I am fascinated that this unique book has enjoyed such a wide readership, and is so popular. What does that say about us?